Albion Exage White Pure White Milk was formula of 2016, they changed the formula in SS2019, the newest is "Albion Exage White White Rise Milk".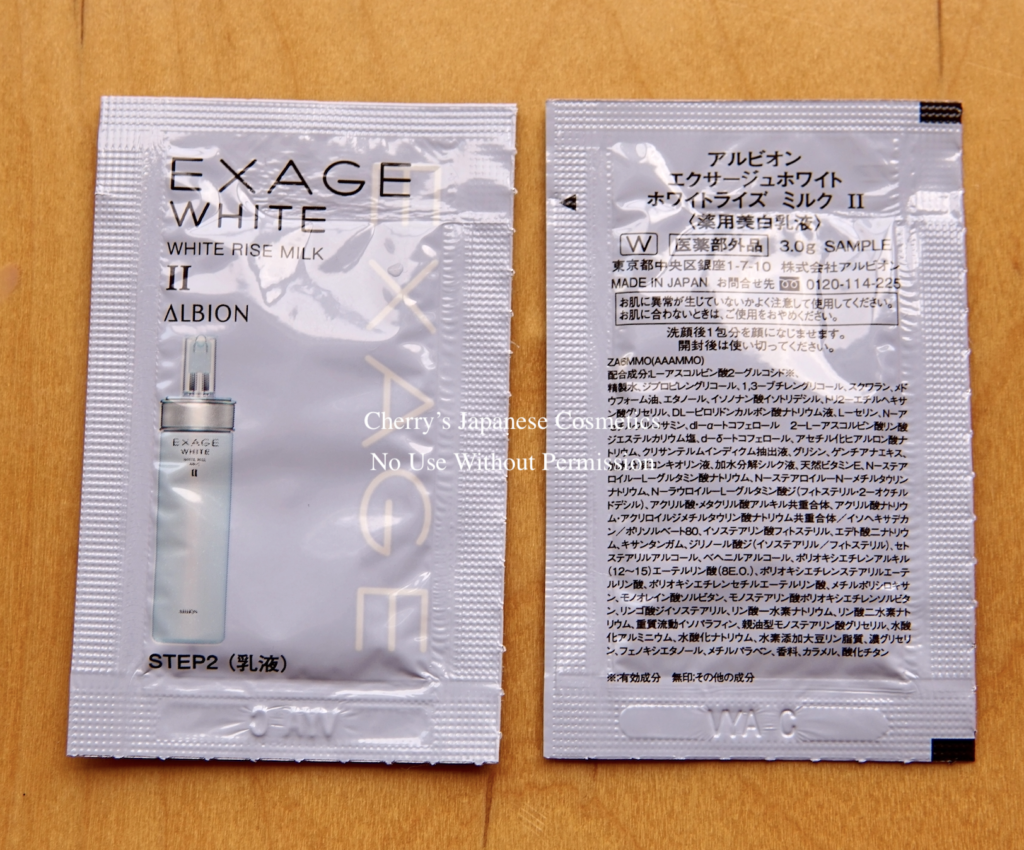 Still there are #1, #2, #3 Style.
Basically, and roughly saying:
#1 for oily
#2 for normal
#3 for dry
But you can choose as your preference, and I never recommend even #1 for the person who insists they are oil prone. They need to keep their foots away from Albion products.
When you are not familiar with Albion skin care method, please see also: Albion Skin Care Method.
Difference of new White Rise Milk and Pure White Milk
I asked to the BC of Albion, the difference between the formula of SS2016 and SS2019.
She told me 2 points.
Changed the ingredients of the oil, it makes easier to be absorbed.
Brightening factor is versioned up.
I asked her again, which is quicker to be absorbed, this new White Rise Milk or Infinesse White Milk. I need to note that according to other BC of Albion, she had told me that Infinesse milks are the quickest to be absorbed among Albion (and Cosme Decorte) milks, and in my experience, it sounds true.
The answer of that BC I asked is "hmm, almost the same with Infinesse, I suppose". I guess it can be up to which type of Exage milk you choose.
Unfortunately, I do not have samples of the previous formula, I can not compare with using by myself (please do not ask me, I just telling you that what I had heard).
Just checked the brightening factor, both the previous formula and the current formula of SS2019 are using L Ascorbic Acid 2-Glucoside. I do not know how they "versioned up", it can be the quantity? or the formula of something? I am not sure.
How Cherry Felt
It is flower blooming late winter to early spring. My skin is not tough, and it is spring when my skin is more and more sensitive. In this year of 2019, at least early March, my skin condition is better as last year I decided to use oils and heavy creams A LOT, and my skin texture before my sleep is sticky. For me, this method is working so far.
However while my stay at hotels or too tired to pay attention for my skin care, my skin is coming to drier and getting rough (after that I use creams and oils really a lot to repair!).
Recently, I stayed a few nights in a hotel. As you know, in hotels, it is pretty dry. And in autumn to spring, it was windy, chilly and dry season in here Japan. My skin was often damaged and rough-looking by the dry air.
I brought some samples of the White Rise Milk #2, and just before I slept, I applied a heavy layer on my face and slept. When my skin is damaged and rough-looking, these types of emulsions usually sting, but this time, there was no pain, which was great.
But there was a perfume scent, which was so so, although I do prefer fragrance-free. After using the emulsion, my skin was looking better, and so the next night, I also used this emulsion and put on an even heavier layer. After using it a few times, my skin reverted back to its original state, where it looked much better. I think sleeping and this product saved my skin.
To be honest, I did not know why this product was so effective and why my skin responded so well to it.
While this product worked well for me, please keep in mind that this product is purely cosmetic. It's not a medicine. There is no guarantee that it'll help clear up a skin problem. If you do have a serious skin condition, we strongly recommend you see a dermatologist.
Bottom line: While the fragrance could be less strong, it works beautifully on stressed skin. It can help damaged and coarse-looking skin to restore itself to its optimum condition. It moisturizes and nourishes my skin brilliantly. Thumbs up!
Please check the latest price, and order from here: Albion Exage White Line.
Comparing with —
See some comparison with  Albion Exage White Rise Milk and other products.
Albion Exage White Rise Milk #02 and Albion Exage Moist Advance Milk #02
Albion set Exage White Rise Milk is for Spring- Summer, and Exage Moist Advance Milk is for Autumn-Winter.
The difference on my face, I felt there are not quite big difference in the texture. Both are smooth on my surface, and slightly Moist Advance Milk side is oilier.  When you switch them each, I don't think you feel big difference. One difference is perfume. I prefer Excia (formula of AW2020 and SS2021) perfume among Albion products. I feel something difference between those two Exage, but both are not for me.
When you are happy with using Exage line, when you feel it is attractive that L Ascorbic Acid 2-Glucoside as a brightening factor, you can choose this Exage White product.
Please check the latest price, and order from there.
#2 with Albion Infinesse White White Pump Milk
I need to note that, it is the end of using this Infinesse White White Milk, probably the quantity is 1.5 times of the White Rise Milk #2.
Infinesse White is quite runny, Exage is not so much runny. 
Applying them on my skin, I felt both are easier to get smoother, and I liked the lighter texture. I say they are lighter, but I never say they are not oily. They are truly oily products, and if you are an oil prone, I never recommend to use Albion.
Infinesse White is for brightening and supple skin, to be honest, I do not know.
Just compared with Exage White #2 and Infinesse White, I felt Exage #2 is significantly lighter and quicker to be smooth.
Also, I need to note that I compared Albion Exage White White Pure Milk #03 (previous formula) and Infinesse White Whitening Milk IA (previous formula) ago.
I had noted that I could not find any difference between Infinesse Whitening Milk IA and Exage White Pure White Milk #3.
Albion Excia AL Whitening Extra Rich Milk SV
In Albion Excia Embeage White is the highest line for the "whitening/ brightening". I had used it, but it is too much for my preference, but the scent of Embeage is the best. Anyway, actually what I buy is Excia AL Whitening line.
Still I had a small tube of Excia AL Whitening Extra Rich Milk SV, here is the comparison.
As I remember the texture of the previous formula of Exage With Pure White Milk is more runny. See the picture above, the texture is harder. It can be due to the temperature (it was 13C degrees).
According to the BC of Albion Excia Whitening Extra Rich Milk SV is more richer than Exage White products, but I felt both are almost the same level on my face.
The BC of Albion also insisted this new Exage White Rise Milk absorbs quicker, but my face, I felt Exage side is easier to be smoother, and Exage side was being sticky.
Wired. Indeed it can be because I took Excia side "almost the same quantity" by my eyes, it might be able to less quantity than Exage side.
Also, I felt it was something lifting up on Exage side. I shall compare it with Infinesse White too.
Please check the latest price, and order from here:
With Excia Brightening Rich Milk 
My current using is Excia Brightening Rich Milk, what is lighter than "Extra Rich".
The regular quantity of Albion milks are 3 pushes, and guess in the sample package there are the same quantity with pushing the bottle 3 times.
I am feeling Excia Brightening Rich Milk side is richer than Exage White #02.
Here is the Exage White #03 and previous formula Excia Whitening Rich Milk SV.
After of applying both, I felt Exage White Rise Milk #03 side is oilier or more sticky, as same as I had felt with comparing with Extra Rich Milk. Rich Milk side was more quicker to be smooth, as Extra Rich Milk was.
I also feel something lifting my face up on Exage side.
Please check the latest price, and order from here:
Pure Milk
In this Summer, I have done with Pure White Milk #3, but #2 were left, what is too light for my skin.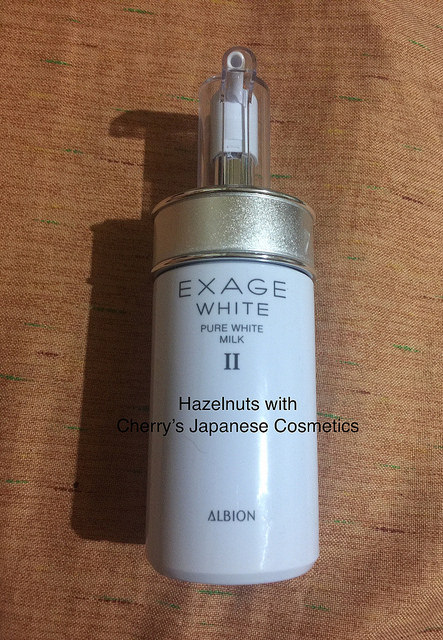 Talking with her, seems her skin is much oilier, and I guess Philippines is where sunnier and hotter whole a year (I can imagine there are other seasons, but not significant seasons like in Japan). I thought she might like this. And fortunately, she got better result more than I had expected!
She has Albion Skin Conditioner Essential, she used this lotion after the milk.
See how she felt 🙂
Review by Hazelnuts
Back for another review!
Cherry sent me the Albion Exage White Pure Milk II, which is an upgrade from the previous Exage White Crystal Milk. Exage White, from what I understand, is a brightening line from Albion and is meant to be used in the summer.
This should be used after face wash, to bring back moisture to the skin after washing and to prepare the skin for other treatments (lotion, serum, cream). Because it helps skin retain moisture, it also helps the other products to absorb better.
I love the pleasant, citrusy and slightly floral scent. Compared to Excia Al milk, I find that the scent of this one is a bit stronger. It spreads easily onto the skin too. The texture is moist, but not oily or sticky. No. 2 is meant for normal skin, but they have variants for oily and extra dry as well.
Having used the entire Albion line from before, I love their milk lotions. This particular one feels soothing and slightly cooling. I love how it makes my skin moist and smooth! No redness after washing, and no breakouts. And because of its soothing properties, my skin is visibly brighter after use. Again it's an excellent way to prep the skin for other products.
With Albion Skin Conditioner Essential
I love using this with the Albion Skin Conditioner. It's amazing! After a week my skin was not only brighter, but luminous! I have been using it regularly and I'm now one shade lighter in my foundation. I'd say they are a good combination. To maximize the effects of the milk, feel free to use it with any of Albion's lotions.
Quantity of applying
Another thing, Albion recommends two to three pumps for their milks, but I only use one to two pumps. I guess, because of my oily skin, this amount is sufficient enough for my face. Also, it's worth to note that the weather here is hot and humid, so I don't need much product to keep my skin moist.
What else can I say? I like the brightening effect very much, and will continue to use this!
Note by Cherry
Thank you Hazelnuts!
Skin Conditioner Essential is a great product, but for the person who has really sensitive skin (like me), it may be too strong to use. They say it is designed for sensitive skin, but there is big quantity of Ethanol I am sure, and I am feeling it is too much for my current skin condition.
You can replace Skin Conditioner Essential to other lotions, like Albion Exage White WHITE UP LOTION, it is much better than Skin Conditioner Essential, in person.
Secondly I envy her that her skin is one shade lighter! WOW! Ha! I did not feel that 🙁 Am I already fair?  Hmm maybe no, I feel I was tanned in this summer.  I guess this convention of Pure White Milk and Skin Conditioner Essential is fitting to her.
Finally, the quantity. She does not apply 3 pushes, and I guess it is pretty good for her skin. The BCs strongly recommend to apply 3 pushes, but I my recommend is changing the quantity as you want, like she does. If it is not enough moisturize your skin, apply more than 3 pushes. I even apply 6 pushes sometimes! (see the "Comparing" reviews. I apply 3 pushes for each of my sides. You know, I do 6 pushes!!! :D)
Hazelnuts, Thank you very much again!
Review by Cherry
Whether or not it helps to brighten skin, we're unsure – although it probably could help a little – make sure you use sunscreen to protect your skin. Sunscreen is really important!
Please check the latest price, and order from here: