New Whitelogist for SS2017
Cosme Decorte changed the formula of Whitelogist SS2017. I got samples, and let me review this.
In this formula, the main active ingredient is still Kojic Acid.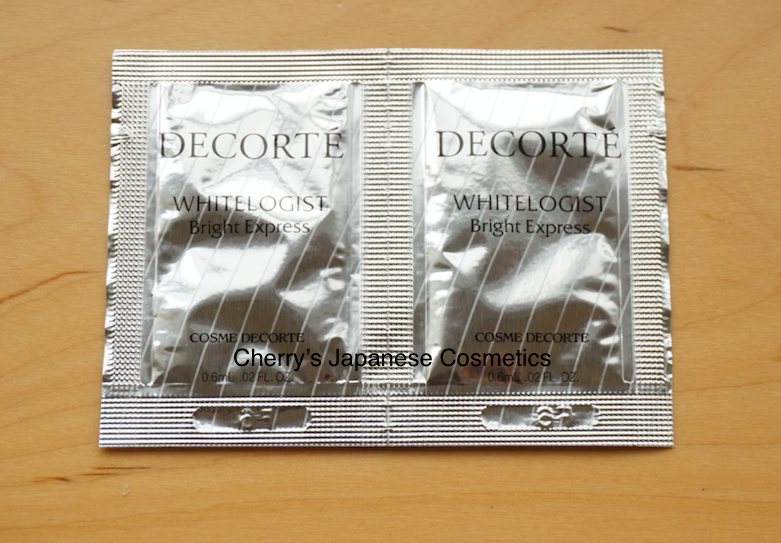 As I remember, I had used the previous formula of "MX", but seems I did not upload my review. As I remember the MX was half transparent liquid, and in this formula, it is also half transparent, but a little bit yellow color.
Talking with some of the customers, they expect the effect of moisturize for these brightening products. I understand their demand of using few products. But checking what Japanese reviewers are describing about brightening products that "it also moisturized my skin, it is a bonus" kind, it means, Japanese cosmetic freaks rarely expect moisturizing effects for brightening products.
Why I am saying this?
Yeah… I am the very the one who needs moisturizing effect for brightening products 😀
The BC of Cosme Decorte, she used this for my face after their lotion (remember, the method is the same with Albion, it means the steps are starting with wash, emulsion, and lotion). Namely, she used this product on the final stage. My skin was well moisturized, and there are no sting nor any of the irritation.
In this — picture's time, I used this product just after the face wash. Yes, there are no moisturizing effect, and for me, I felt tight. Seeing what Japanese reviewers are saying, they felt their face lines are lift up, for me it was simply tightness. Fortunately, there was no sting. Indeed the perfume is not for me.
It claims it bright whole of your face up, and according to the BC, it works well when you apply your problem parts by your finger.
And the brightening effect. I had used few packages, and still I am not sure 😀
if you have a dry skin like me, I recommend to use something moisturizer.
Please check the latest price, and order from here: Cosme Decorte Special Care.
Previous formula
I (Cherry) got a sample of Cosme Decorte Whitelogist MX, talking with Hazelnuts, I had thought she might like this.
See how she felt.
Review by Hazelnuts (previous formula)
Cosme Decorte is another brand which I am eager to try, and this product I'm going to review now is the Whitelogist MX.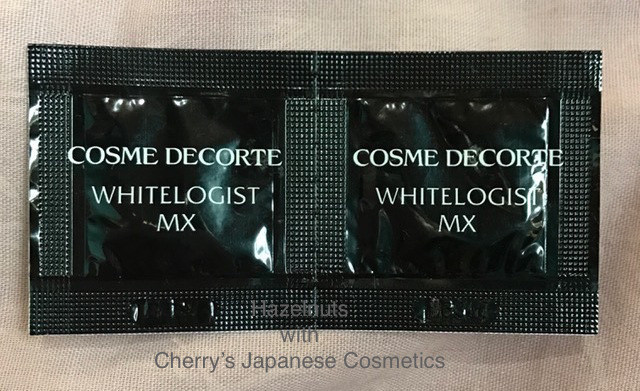 It is a serum that has Kojic Acid as its active ingredient, and contains other herbal extracts for brightening the skin, and is dubbed as a gentler, yet effective alternative for hydroquinone.
Unlike the AQMW line which has the relaxing scent of sandalwood, I hardly detected any scent with Whitelogist MX. It is a clear, transparent serum meant to be patted onto the skin after cleansing and toning.
The texture is very light, and non-sticky. I'd say this is excellent for summer months, when skin feels a bit dull and tanned from the sun.
The tricky part is that my skin sometimes does not agree well with kojic acid, which is the main ingredient here, as i have mentioned. But still I tried it for several days to see if there will be a reaction.
Thankfully, my skin did not breakout with this product. It felt lightweight and non-oily, and worked well as a booster, I guess, for my skincare.
I did not feel adequately moisturized with this product, so I think it is meant to be used as treatment and not as moisturizer. However, for very oily skin, it could work as a lightly hydrating serum, because it is not sticky when applied.
I did not notice any brightening effect, but for those who like kojic acid, this will be a good serum for you.
Thank you, Hazelnuts!
Note by Cherry
As I know, this is neither a moisturizer nor a booster, but brightening product.
Please check the latest price, and order from here: Cosme Decorte Special Care.