Review by Hazelnuts
Below are my thoughts regarding the RMK Long Lasting UV SPF45 PA ++++.
This primer claims to have a "fresh smooth texture" that primes the skin for a poreless and smooth look under makeup. Skincare ingredients keep the skin cool and moist, with adequate sun protection.
This primer is white in color and feels light on the skin. I am not sure if there is alcohol in it but the texture is thin and it spreads easily and is not oily. It feels smooth and there's a slight white cast upon application. I personally do not mind this because it has a brightening effect. I also love that it has SPF 45 and a high PA rating, which is very good for the summer. I make it a point to wear sunscreen underneath makeup to ensure optimum protection against UV rays. I'm happy that this primer gives good sun protection.
As I've said I do not feel any greasiness while wearing this. It gives a slightly smoother look and blurs the look of pores, so that is a plus for me as well. As a makeup base or primer, it does not really offer coverage except for the slight brightening and smoothing effect. Overall it is a very good product for oily skin, but people with dry skin can get away with it as well, particularly in the summer, because the texture is light and fresh, with added hydration. I wore this underneath liquid foundation and it made my foundation wear better and longer. I do like this because it makes the skin smooth and it does an excellent job as a primer while giving sun protection.
Thank you Hazelnuts!
Please check the latest price, and order from here: RMK Long Lasting UV, or in JPY Branch
Review by Cherry
I (Cherry) got a sample of RMK Long Lasting UV, new for SS2016.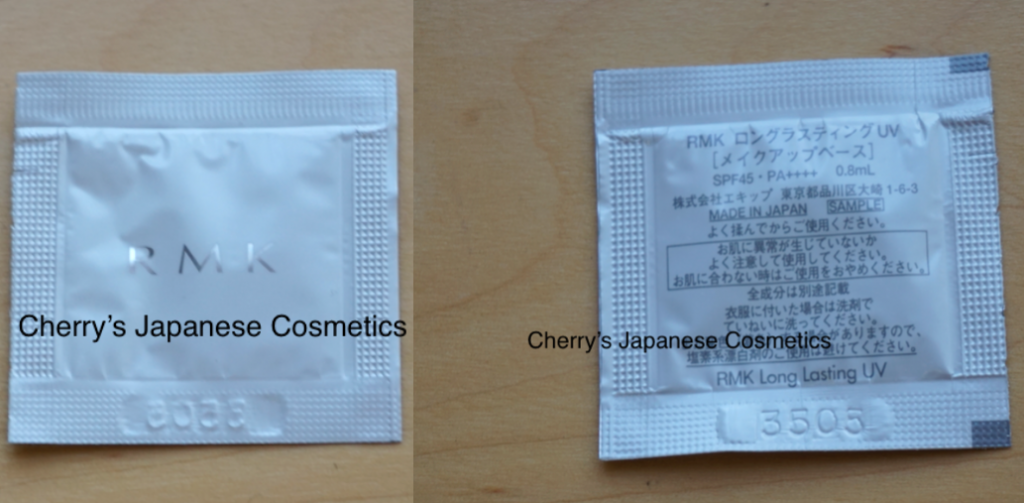 Please let me share my review with you.
This Long Lasting UV is a foundation primer with stronger sunscreen effect of SPF45/ PA++++. Seems this product is for those who uses sunscreens as a primer like me.
I had used RMK UV Face Protector 50 ( see also Person al Review of RMK UV Face Protector 50) , using with this, I remember I needed to note I got sting by this product. You can understand I had hesitated to use this product too. My skin condition is much better now, finally I could open this sample 🙂
Let me show you the sunscreen itself on my arm.
There are no shades, sometimes such products are often colored as pink to beige.
Spread on my arm. I do not know whether you can find or not, my skin torn was getting "white", and shining with its oil.
If you are a person who request something color control, hiding your pores etc, this is not for you. There are no such effects, it has only sunscreen effect.
When I was young, some sunscreens used to be making my skin drier, but recent products rarely do that. This Long Lasting UV, I felt it makes my skin really oily. I just remind ADDICTION Skin Protector, but I felt this is more oilier than ADDICTION. I suppose this product is for dry skin.
This product is not waterproof, I do not test with water.
Sting. Yeah, it is the fact of what I had hesitated to use. Fortunately, there are no sting by Long Lasting UV. Pretty good.
Now, I am having many sunscreens as primers to use for whole a year, when it would have been used on March, I would have bought this…
Totally to say, if you are loving to use oilier sunscreens, with neither perfume nor wired smell, this can be one of the affordable foundation primers for you.
Please check the latest price, and order from here: RMK Long Lasting UV, or in JPY Branch