Review by Hazelnuts
I got a sample of THREE Ultimate Protective Pristine Primer in Glow. I liked the Flawless Ethereal Foundation so much so I am quite curious if this will also work for me.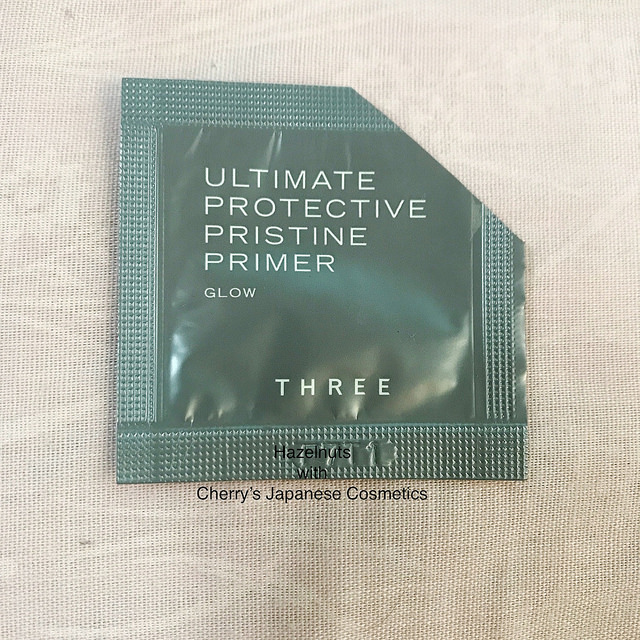 That being said, I'm not fond of wearing primers. I usually use sunblock as makeup base, followed by foundation.
This primer has a light creamy consistency. Upon initial application, it leaves a semi-matte finish. It spreads easily on the skin and is moisturizing.
After a few minutes, it sets on the skin and the "glow" comes out. I can see my cheekbones and it catches the light quite well. By "glowing" I don't mean shimmering, but rather a healthy, luminous look. It also "corrects" the complexion by giving an even, smooth finish.
Again what I like about THREE is that they work with natural ingredients, and this primer is no exception.
Because I have oily skin, I like using this primer on the dry areas of my face, and it helps keep the makeup together and also prevents unsightly dry patches on my skin, particularly when I am in an air conditioned room and the air gets too dry. It does add an extra glow to the face so it might be too much for oily or combination skin.
It would be good for those who have dry skin and those who want to make their makeup last throughout the day. It makes the skin look healthy.
Please choose your shade and order from here: "THREE Foundation Primers"
Review by Cherry
I (Cherry) just obtained a foundation primer/ makeup base from THREE: Ultimate Protective Pristine Primer. The color is #01 Glow.
Seems #01 Glow is the basic shade for Japanese.
This under foundation is quite runny.

I wish you could find my skin color was changed. In the left picture, my naked skin is pinkish, but naturally uneven skin tone, in the right picture, my skin wearing this product is more yellow / ochre, but this is healthier flawless skin. WOW!
SPF32 PA+++ is greater than other foundation primers. When you use sunscreens for as foundation primer, they never correct your skin tone like this THREE.
I have to admit SPF32 PA+++ is not enough for summer, but this is enough in winter, I am sure.
Please choose your shade and order from here: "THREE Foundation Primers"