I have used several products from Kao Sofina products, Janne or White Professional.
One of the ladies working for us bought Sofina iP cream sunscreen, Kao Sofina iP UV Resister Rich Cream, new for SS2020. In SS2020, they released 2 types of sunscreens from Sofina iP brand, this cream type and milk type. But due to the postal and aviation regulations, we are not able to deal the milk type.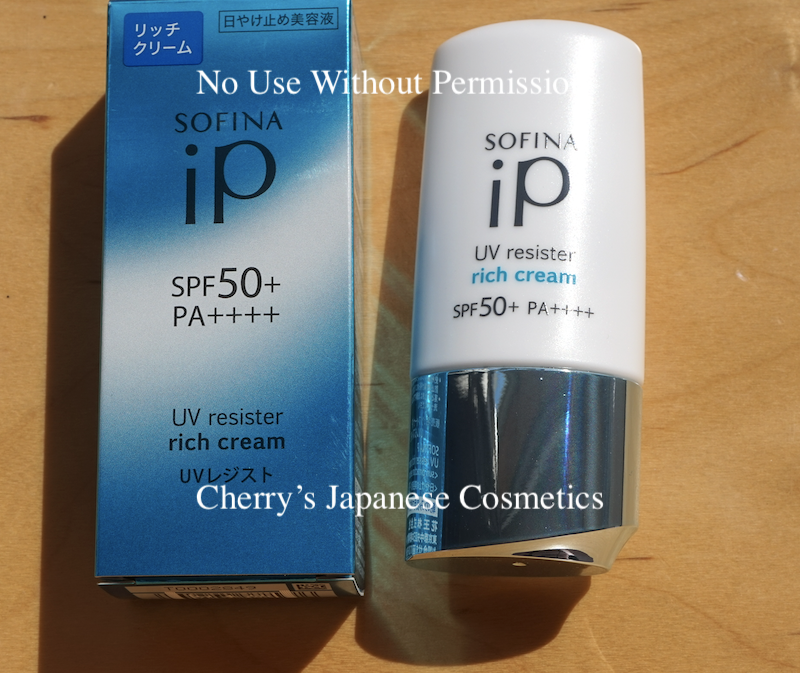 In Sofina products, I often feel they are well moisturized. generally, they are with perfume, and when my skin condition is not quite nice, I feel stinging.
Every Spring, I get my skin dryer and more sensitive. Sofina is not the brand what I choose my skin is slightly damaged. But this sunscreen is not nine, one of the ladies working for usallowed to use testing for this blog, I need to do right now.
Guess you want me to compare it with something. Allie Extra UV Facial Gel N can be better to compare.
I often compare two products, I apply one on my left side of my face, and the other is on my right side, and I did for those two sunscreens.
Both change my skin tone slightly, not "tone up" aka "whiting".
Allie Facial Gel N is named "Gel", but actually a creamy sunscreen. This Sofina iP is named as "Cream", but it is not quite heavy texture. It is nice, I felt. On my face, both made my face a little bit oily, Sofina iP side is more oilier than Allie, and turning to smoother within few mins. Please note that I never say both are not for oil prone. With Sofina iP, I did not feel this sunscreen is not making my skin drier.
In person, I often walk along for few hours with shipping & obsession. It is my daily routine workout for my health. It is really rational, isn't it? I sweat really a lot when it is warmer. I prefer waterproof sunscreens for my face too. Sofina iP sunscreen has no waterproof effect, but see the picture above, It can be due to it is a kind of oily sunscreen, it acts as if it were a waterproof sunscreen. But please remember, this sunscreen is not a waterproof sunscreen, I do not think it works the same after few hours passed. On the there hand, the person who bought it is a driver, not looking for something waterproof in Spring. For her, there are no problem that there are no waterproof effect.
Sadly, and as I had expected, I felt stinging slightly just after applying this Sofina iP sunscreen, it is probably my skin condition is not nice (it is Spring!!!). It was gone quickly, but when you have damaged skin, this product is not nice to use. Allie side, there are no difference. But please remember, it can be because I am fitting to Allie, and if you were a person fitting to Sofina iP and not to Allie, you could feel stinging with not Sofina iP but Allie. Also, the lady who bought it for herself, she did not feel anything irritation.
What I want to tell you is, please pay attention to using sunscreens when your skin condition is not nice.
To be honest, I like Allie more than Sofina iP, because Allie Extra UV line has no perfume, but this Sofina iP has the scent of "Ocean", it can be a kind of fit to the color of the brand (blue), also I like this perfume more than "floral" scents, and also it is not strong. Indeed I prefer non-perfume products. But the person who bought this sunscreen, she liked this scent. They are difference between two people's preference!
In the bottomline, I think this product is not mine; non-waterproof, irritation and the perfume. If you do not mind those point, it is not pretty bad. But if you are looking for waterproof sunscreen without perfume, I recommend to use Allie Extra UV Gel N/ Allie Extra UV Facial Gel N/ Anessa Perfect Mild Milk a.
Please check the latest price, and order from here: Sofina iP line.