THREE Angelic Synthesis Foundation Serum is a new foundation for SS2018.
I went to the counter of THREE, and asked the Beauty Councillors to know and experienced, and got samples.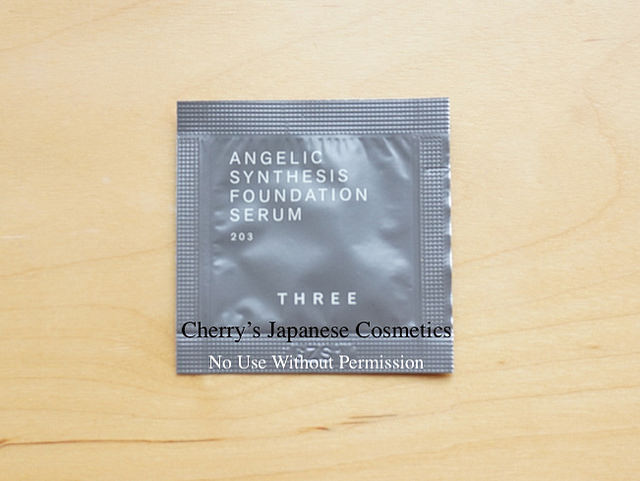 At the counter of THREE
According to BC of THREE, in this new foundation of THREE Angelic Synthesis Foundation Serum, the shades are lighter than the Fluid foundation. So, in person, I am using #202 of THREE Flawless Ethereal Fluid Foundation, the shade is one torn lighter than the standard shade, #203. When I checked on the counter of Angelic Synthesis, #202 is too light, and #203 is fixed. I strongly recommend to choose one torn darker shade than the Fluid.
According to the BC, they recommend to use your fingers to apply.
In this Angelic foundation, the BC used a color control as the Angelic Primer #02. The combination is sheer, and the finish is naturally glow. The covering is sheer to medium. I liked it so much. If you want to know about this primer, please also see: Personal Review of THREE Angelic Complexion Primer.
The BC told me that this new foundation is for lasting. I expected it is nice for using at summer. Indeed actually the lasting is… not pretty good, but as you know due to dusty season, I wear masks to cover my nose to mouth. It is really easy to make my makeup run out. It is also not fair that to decide in the first case.
And I need to note that she used THREE Airlift Smoothing Wand as the finishing item, also new for SS2018. It is a transparent product, but to cover the pores and make my face smoother. But the combination with the Angelic Foundation Serum, I had thought it run with the foundation.
With samples to find the lasting
So, I got some sample of this THREE foundation, while our recent obsession of the THREE, I may upload the product review with pictures. (Sadly I checked the samples, there are no Fluid or Cream foundation, I can not compare the shades )
Anyway, let me use.
With Allie BB
The first review is with Allie BB, new for SS2018.
Let me show you the swatch. In this picture, above is the primer is Allie BB, lower is Naked.
And blend them.
In person, the named seemed more natural. It is with the BB that seems meld with my skin well.
I applied this foundation on my face and the primer was the Allie BB. I stayed on the office, after one hour, I found my makeup was melting especially on nose. I should better to use something like THREE Airlift Smoothing Wand.
This foundation is promising the lasting, but actually, it was not so much fantastic lasting, I felt. I may combine with other primers.
And with the combination with Allie BB, it is not matte, but not so much sheer. The covering is medium, the primer of Allie BB covered better, and the finish is natural to glow. No dry, but the lasting on my nose is not so much lovely, but it often happen to many of other foundations 😀
Please check your color, the latest price, and order from here;"THREE Foundations"