Ignis is a branch brand of Albion. VQ is the most high line for Ignis, and the price zone is the mid of the Infinesse and Excia AL. There are no Infinesse White Milk now, and before I have done with this Excia White Rich Milk, let me compare VQ and Excia.
Their method is the same and unique: Milk first, lotion second. Third is something (creams or oils etc…) wrapping your face.
Ignis changed the formula of Ignis VQ Glorious Milk to Ignis VQ Glorious Milk EX in SS2017. I got a sample of this new Ignis VQ Milk, and let me compare with my favorite Excia AL Whitening Rich Milk SV, what is lighter of there Excia White Milks.
Let's go!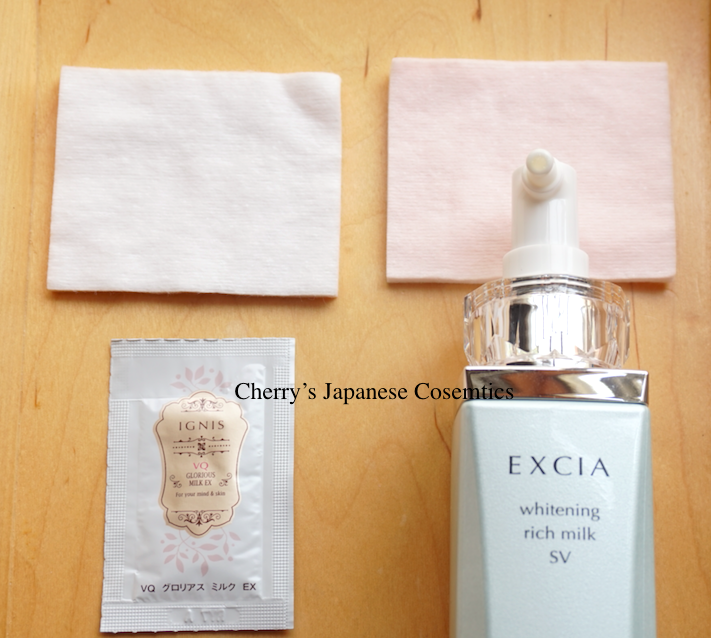 Both of the milks are "brightening" milks. It is the VitaminC  the ingredients for the brightening in VQ, and it is Tranexamic acid in Excia Whitening Milk. This is the reason why I repeat Excia.
According to the BC of Albion, Ignis VQ is quicker than make your face look bright, but if you want to resolve (in sunny countries like in Japan, tanned skin is "problem"), she recommends to use Excia Whitening Milk.
Let me compare these two.
Perfume and Texture
Perfume
I know Albion skin care products well. You can see how I had reviewed. And I KNOW the quality, indeed there is one HUGE problem for me. Yes, perfume. In Albion brand, Excia AL is "acceptable", Exage is "not  for me", Infinesse is "dislike".
I had also used Ignis VQ Glorious Milk, the previous formula, and used some VQ products, I know the perfume of Ignis is much better than Albion brands. This perfume is a kind of herbal, hmm, I just imaged medicated western herbals what is good image for me, in person.
Texture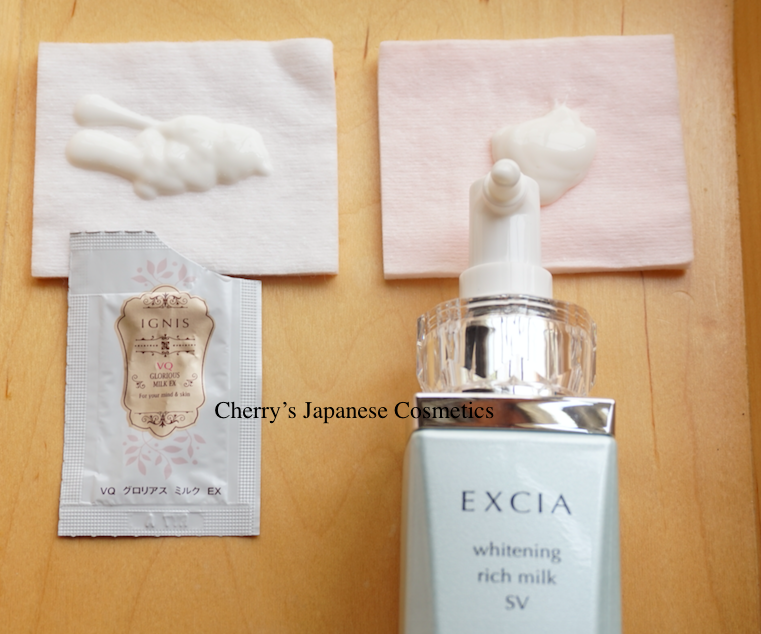 You may see the difference significantly.
I took whole of the package of VQ, and 3 pushes (as Albion recommends) of Excia. Previous formula of VQ was really runny, and in this formula of "EX", this is also runny.
Apply on my face
Yeah, I am using whole of the cotton for one side of the face each, totally I use double of the quantity 😀 Because my skin is a little bit tired, and I need to pour something 🙂 You can change the quantity as you want, and when my skin is well, I use 1-2 pushes for whole of my face.
Just attention. I am a repeater of  Excia AL Milks, and in Whitening Milks, you will get something white residue if you do not set your face well.
Moisturize & finish
Fortunately, there are no sting for both of the sides. When my skin is really damaged, I feel pain with using Excia Milks.
Ignis VQ is runny, but Albion milks are oilier, and Ignis too. If you are an oil prone, please keep your foots from Albion.
I am feeling both made my skin well moisturized, and smooth. However Excia is more oilier than VQ. I say again. VQ is also OILY products.
And I did not feel my face of VQ side is significantly brighter than Excia side.
Bottom Lime
I like the herbal perfume of VQ more than Excia. But I kept repeating Excia AL Whitening line, it is only for  the ingredients.
There are no sting in the both, but please attention if you have so sensitive skin, or damaged.
VQ is less oilier than Excia White Rich Milk, it is not meaning VQ is not oily. VQ is also oily.
Guess if you are looking for milks under Albion, but the scent of Exage, Infinesse and Excia al are unacceptable, this Ignis VQ line is one of the solution for you. (The other choice I can show you is Cosme Decorte AQMW line. I also like it!)
Please check the latest price and order from here:
・Albion Excia AL Whitening Rich Milk SV
・Ignis VQ GLORIOUS MILK EX