In AW2023, Kose changed a formula of Cosme Decorte AQ Lotion to Cosme Decorte AQ Absolute Lotion Hydro Infuse.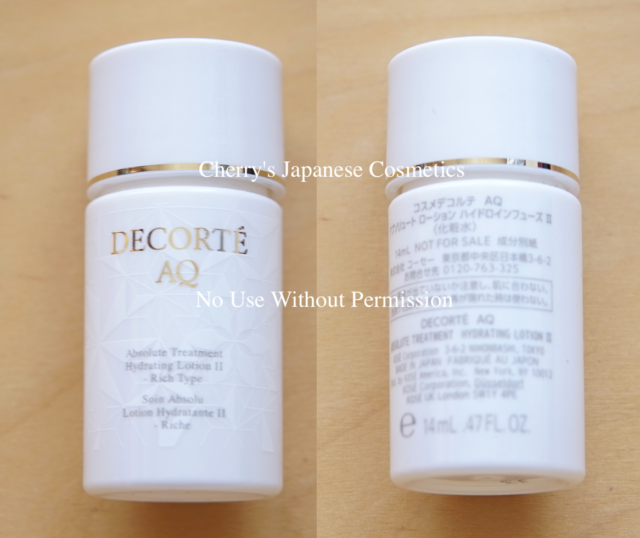 When I (Cherry) purchased Cosme Decorte AQ Absolute Emulsion, they gave me a small bottle of this new lotion, let me share how I felt.
Seems the full bottle design is not so much big difference from previous formula.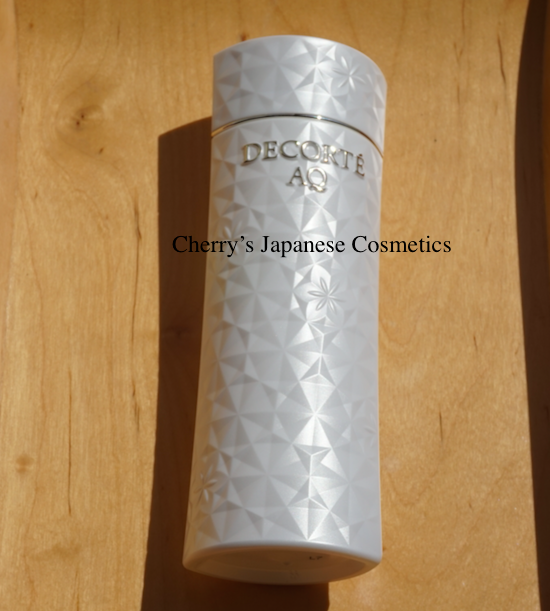 3 types of new AQ lotions
There are three types in this Cosme Decorte AQ Absolute Lotion Hydro Infuse.
#1 Airy Rich
#2 Rich
#3 Extra Rich
What I got is #2 Rich.
The way to use
If you are familiar with Albion or Cosme Decorte Skincare method, their recommended way is emulsion/ milk first, and the lotion second.
See also: Albion Skin Care Method.
However the combination and way maybe customizable as you want 😀
I may tell you later, this lotion is super moisturized my skin well, in some busy morning, I use this lotion only.
How do I feel to use?
The perfume of this lotion is the same as AQ Emulsion, it is floral but posh. I love it.
The texture is runny I feel, in my note, I had described AQ Lotion ER and AQMW Repair Lotion are sticky.
It moisturizes my skin pretty well as previous formula, so in daytime or busy morning, I often use this lotion and oil only.
Sometimes I feel sting by using lotions or emulsions. Seems there are ethanol, but I did not feel anything irritation. For me, this is quite important factor.
Cosme Decorte recommends to use cotton and apply it with tapping. But I do not recommend to tapping if you have dry skin (like me). Because tapping is for oily skin. Tapping is to make your skin "tighten". I applied it on my skin by my hands with wrapping my face. Frankly to say, this lotion did not moist my skin quickly.
It is a good product, but I am not sure whether I am going to purchase a full bottle, probably they are going to release new lotion in brightening line in SS2024. Generally I use lotion in Early Summer to Early Autumn, rarely in Mid Autumn to late Spring 😀 There are still Cosme Decorte HYDRA CLARITY Treatment Essence Water.
Please check the latest price, and order from here: "Cosme Decorte AQ Line".
Below should be changed when I got other lotion.
Difference between Cosme Decorte AQ Lotion and this Lotion ER?
Finally I got a sample of Cosme Decorte AQ Lotion. And this ER is left a little bit.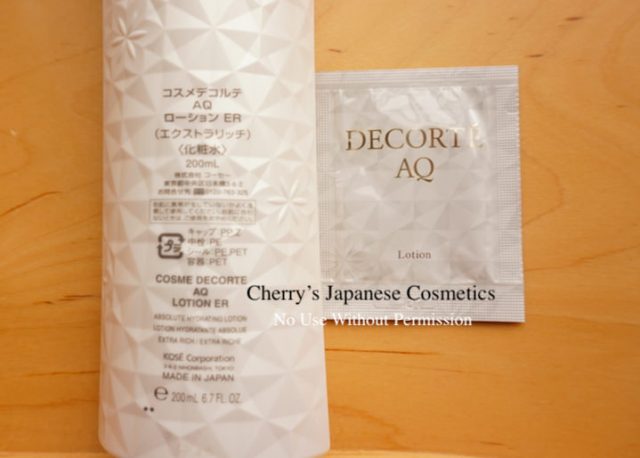 Let me compare them. I took this AQ Lotion whole of a package on the cotton.
With seeing the quantity of AQ Lotion on the cotton, I took almost the same quantity of AQ Lotion ER.
And apply them hand of my faces each.
Hmm. not pretty much difference I felt 😀
Compared with Cosme Decorte AQ Whitening Lotion
In this SS2018, they also releasing Cosme Decoete AQ Whitening line. I got small bottles of them.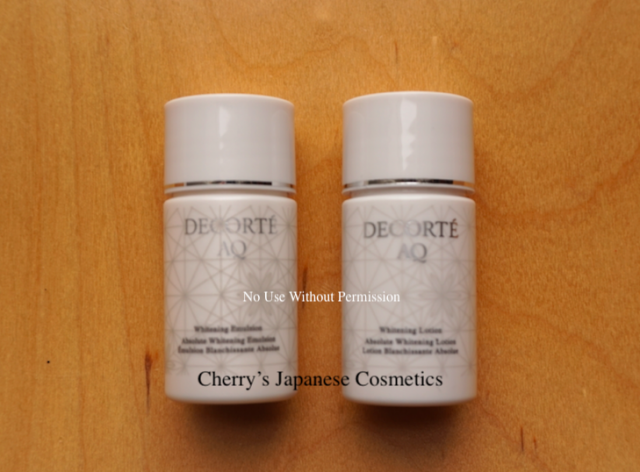 Please let me compare my Cosme Decorte AQ Lotion ER and Cosme Decorte AQ Whitening Lotion.
The "whitening" (brightening) factor is kojic acid. I often feel sting the products with kojic acid, but fortunately, as the same as Cosme Decorte AQ Whitening Emulsion, I did not feel anything irritation with this AQ Whitening Lotion.
The texture is different. AQ Whitening Lotion is more smoother and lighter than AQ Lotion ER. Both are a little bit sticky, but Whitening is much lighter.