In 2020, Albion changed all of the formula of Ignis.
There were Ignis "Sunny Sour" line, and previously called as "Ignis Sunny Sour Duo Milk". I had used some products in samples of the previous formula, and I earned no good image: I earned stinging.
I got samples of the formula of 2020.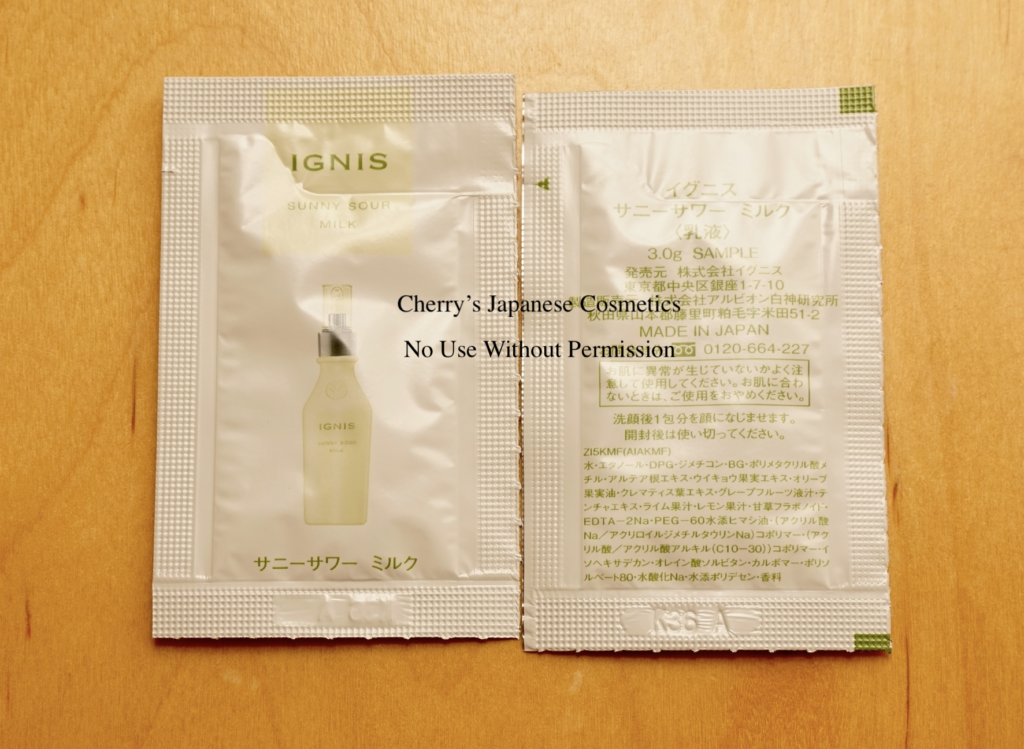 According to the BC of Albion, there is Fennel as new ingredients, which is for calming down your  burnt skin. When it is for burnt skin, it should be not harmful. Indeed, their "famous" Skin Conditioner Essential is insisted as for sensitive skin, but actually full of ethanol and brings me stinging. When you feel something strange with any products, please stop using them. Your feeling is only the answer.
As the ingredients of Grape fruits and Lemmon, I do not want to use this line in my day time routine.
Unlike Whitening Milk, this Sunny Sour Milk is not a medicated product, neither for healing, but also brightening.
The scent of Sunny Sour Milk is sweet citrus, it reminds me previous formula.
Comparing with Ignis Whitening Milk #1
I newly bought Ignis Whitening Milk #1, and I compare this new Ignis Sunny Sour Milk and Whitening Milk #1.
The texture of the Sunny Sour Milk is different from other Albion/ Ignis/ Cosme Decorte milk/ emulsions. I feel it is not a milk but a gel.
I used all of the sample package of the Sunny Sour Milk, and 3 pushes of Ignis Whitening Milk #1.
The Sunny Sour Milk is quite light texture on my skin. I felt there are no or less oil, but it is by Albion. I do not recommend for those who are thinking they are oil prone.
It is not stinging, but the gel is not enough for me. I do not feel it is super drying nor sensitive mode, but is normal to dry skin. I applied whole of the quantity on my left side only, it means double of the estimated quantity. The surface turns smoother quickly. It is the reason why people use it in mid summer.
However I need both water and oil. The finish of Whitening Milk side is my preference.
Totally to say, this Sunny Sour Milk is not harmful for me. But I prefer more oily products in Summer too. Simply this is not for me, in person.
Please check the latest price, and order from here: