Ignis changed whole the formula in SS2020.
Ignis Whitening Oasis is a product to repair your lough skin. I got a sample, let me share how I felt.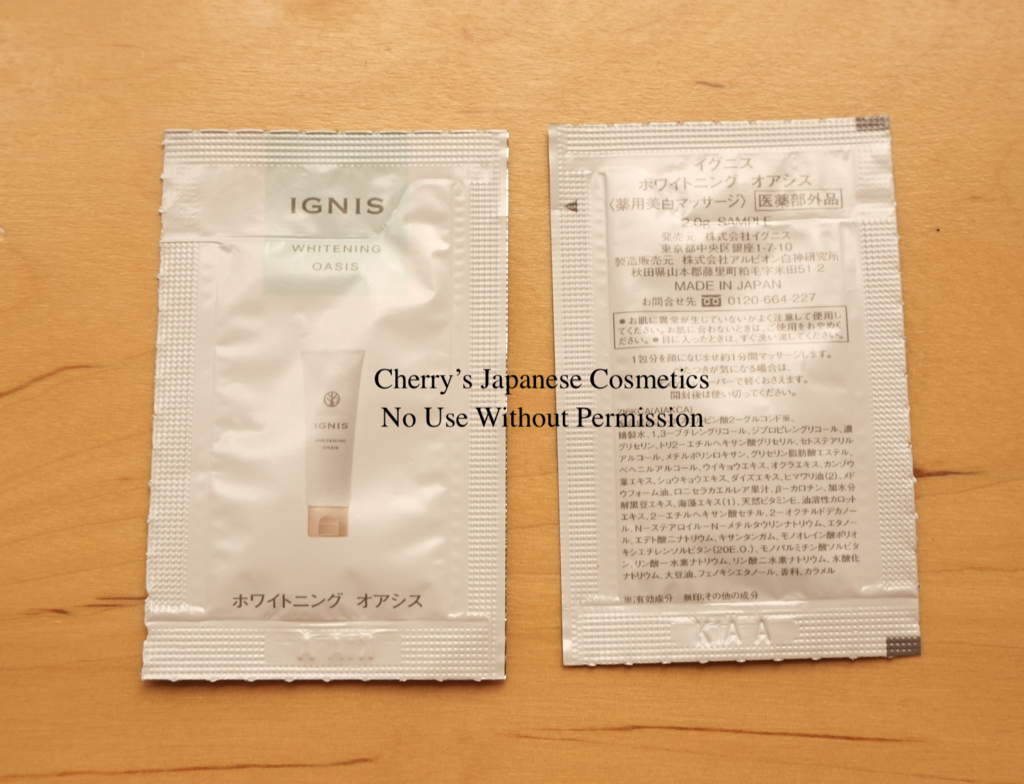 There are some "repairing" products for your (lightly) lough skin. It is categorised as "Gel/ Cream" and you do not need to wipe. For usage of this product, apply this product on final step of your skin care routine.
Few days before using this Whitening Oasis, I used POLA RED B.A Contour Tention Mask, what is a bunch of those creams. I felt the jar style is not good hygiene, also it does not fit with my other daily routine products.
I often use Shiseido Benefique Repair Genius, it is a kind of all-in-one, but I use it when I feel my skin is getting tired.
Anyway, let me tell you about this Ignis Whitening Oasis.
The texture is not hard. It is east to spread on my face. I had lightly lough skin, but there were no irritation with applying. Please pay attention when you have lough skin. It is often medicine is what you need. This product is "medicated", it is not meaning for healing your lough skin, it is meaning brightening factor of L-Ascorbic Acid 2-Glucoside.
I admit the whole package was too much quantity for my face, I used the left for my elbows and knees :). The package usage says, when you feel it is greasy, please attache tissue to rid off.
On the next morning, I found my skin was little bit smoother and well moisturised. It can be not due to this Whitening Oasis, but it is true that it is not harmful for me.
Also,it is a brightening product with L-Ascorbic Acid 2-Glucoside. So far, it is truly working for not earning new freckles.
I bought too much skin care products recently, but this Ignis Whitening Oasis is listed!
Please check the latest price, and order from here: "Ignis Whitening Line"