Impress Granmula Foundation is often asked, but can not buy online. Please feel free to ask me, if you re not in a hurry. I visit some bigger cities we can buy it every month, I can buy it for you when I go, or pay me extra JPY3,000 to go (transportation fee only).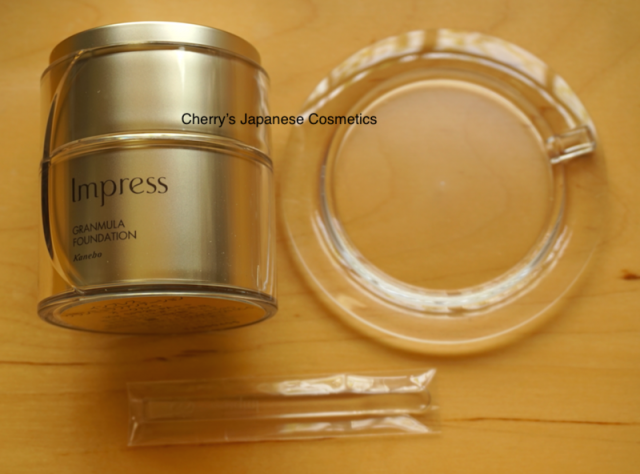 Anyway, I guess you want to see the swatch, I (Cherry) got a sample of Impress Granmula Foundation #OC-C, seems this is the very their standard shade for Japanese.
Let me show you my review and comparison with Albion Excia AL Superior Cream Foundation EX, what is also often ordered.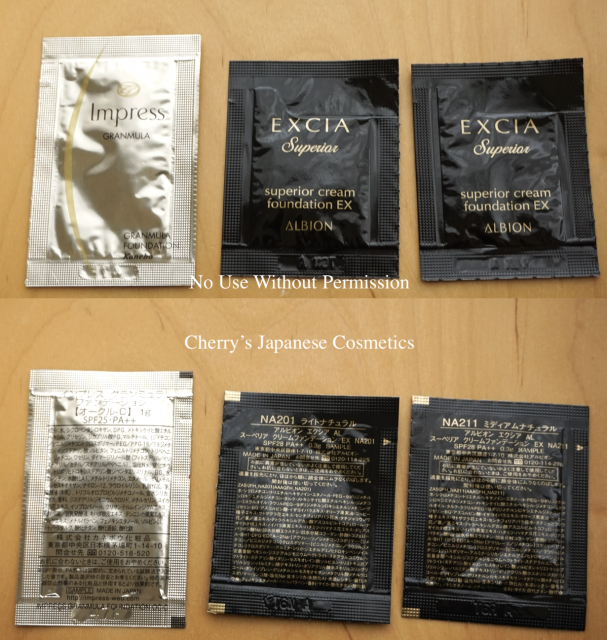 Glanmula #OC-C
Superior #NA201 & #NA211
Cream foundation — harder texture
Both Superior Cream Foundation EX and this Impress Glanmula Foundation are categorised as "Cream Foundation".
It means they are harder texture.
The texture is a little bit heavier than Superior Cream Foundation for me.
Two Albion standard shades are a little bit more pinkish than Kanebo Impress.
Which covers well?
I feel Granmula is better than Superior Cream EX on the point of covering uneven skin torn. But if you have a rough skin or lots of pores, I feel Superior Cream EX covers more than Granmula.
Difference of the finish
I do not think both are not radiant, I felt Superior Cream EX is more matte than Glanmula.
Perfume
Both are with perfume, and Superior Cream is with something stronger oriental herbal, and Granmula is floral. I prefer Granmula's, because it is not strong, yet both are not what I wanna have, sadly.
Lasting
There is a customer who asked us to do custom order this foundation,  she also ordered us Albion Excia AL Superior Cream Foundation EX. She told us that Granmula is better than Superior Cream EX.
As I had mentioned, the day before I applied Granmula on my face, I used Superior Cream EX. But I can not compare with them, because of the sample quantity I had (I took lots of shade comparison in this summer, and that one I had :D), I could not use it whole of my face.
Let me back to the Granmula. On the evening, I found my nose is really really extremely oily. But on my cheeks, it lasts well. It was just a warm "Indian Summer", and I did not sport.
Swatch with SUQQU
I swatched it with SUQQU Extra Grow Cream Foundation, the original price is half of this Impress.
To be honest, I could not find significant different from Impress #OC-C and SUQQU #102.
I never say it is perfectly the same shades, or in other shades, they are the same each. At least for me, I am SUQQU #102, and this #OC-C is alternative. Also, SUQQU does no perfume, but Impress have perfume. I prefer no perfume products.
If you wondered to ask me Impress, SUQQU can be alternate. At least it is more affordable and easier to buy.
See also: SUQQU Extra Grow Cream Foundation.
Custom Order only
There are no official Impress online stores, and there are no Impress store nearby. We need to go to buy, so accept custom order. I go bigger cities once a month, please feel free to ask us, but DO NOT MAKE US HURRY. If you want us to express ship, we need to ask you the expenses of JPY3,000 (transportation fee only).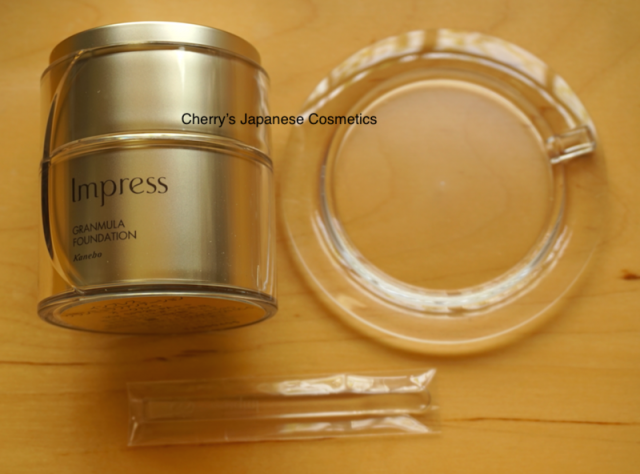 We will seal you to avoid leaking. We guess this is enough.

Please check the latest price, and schedule in here" Kanebo Impress Granmula".