In 2018, I (Cherry) obtained a small tube of Shiseido Haku Melanofocus Ⅴ, formula of 2018, in 2019, I liked it, and I decided to buy a full bottle 45g of Shiseido Haku Melanofocus Ⅴ for my anti-tanning product for this summer . I bet they are going to change the formula in 2020.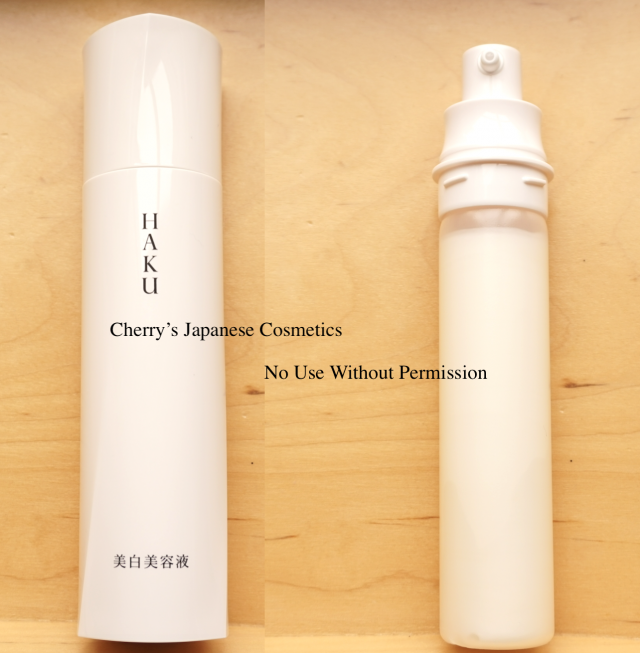 In formula of 2018, there are no 20g small bottle, and they are selling "trial size" of 20g refill in a full case. And the 10g thing what I bought in 2018 are not selling in 2019.
This brightening cream is a refillable.
Please do not ask us if you want to have these small sizes, they are limited and can not promise whether we can get for you or not.
Anyway, here is what I bought in 2018.
Please let me share the review of this.
Haku by Shiseido, this is one of the best-seller brightening item among Japan, I am sure. Even for me, as I remember this is my forth or fifth formula since my first use of Haku.
I have reviewed previous formula, 3D (Formula of 2016), and CR (formula of 2013). I felt 3D was a little bit oilier than CR. And I am thinking Haku 5 is not so much big different from 3D.
In Haku 5, there are smell of Alcohol or something, but there are no kojic-acid in the ingredients.
This serum has a thick, creamy gel texture that absorbs easily into the skin but leaves a veil of moisture behind. Upon application, skin feels soft. It has a scent that is quickly gone.
It is true that I am an ethanol prone, I often get sting. Fortunately, I did not feel any pain from this cream. It is good. Checking what Japanese reviewers are saying, some got irritation. Seems it is good for the person who are strong skin.
It is happy that I could spread on my face smoothly, but I also need to note it was a little bit oilier. If you are an oil prone, this is not for you, I am sure.
Brightening effect— I can not tell you anything. Some says they found their freckles are getting neutral within the first few days. I have just samples, but I can say nothing.
Just let me keep what Hazelnuts of Philippines told about Haku 3D, because I am feeling there are less big different between this formula of 2018 and 2016.
I had an issue with dryness and skin darkening due to sun exposure during my vacation. Sometimes i see my complexion as blotchy and dry.

It's been almost 3 weeks and I'm back to my original skin color. Aside from limiting my sun exposure, this serum helped in making my skin tone more even. Dry, patchy marks have faded and I can now wear my regular shade of foundation, compared to when I was a shade or two darker. When used together with other Haku products, the brightening effect is faster.

I like the Haku line. It feels gentle yet it is quite effective for me. And the products are moisturizing enough for my combination skin, so I do not have to layer them. Every now and then a pimple comes up, but it fades away easily and does not leave a dark spot behind. Brightening products can be quite tricky, so it is important to do a bit of research and test if the active ingredients work for your skin. As for me, this is a good line and I will continue to use it.
The way to use
There are also lotion and emulsion in Haku brand.
According to Shiseido, the order to use is below. (The Haku itself is Haku 3D, formula of 2016)
If you wanna use this brightening essence with high reputation among Japanese, please check the latest price, and order from here: Shiseido Haku Melanofocus Ⅴ