THREE Treatment Emulsion is new for SS2018 in Japan.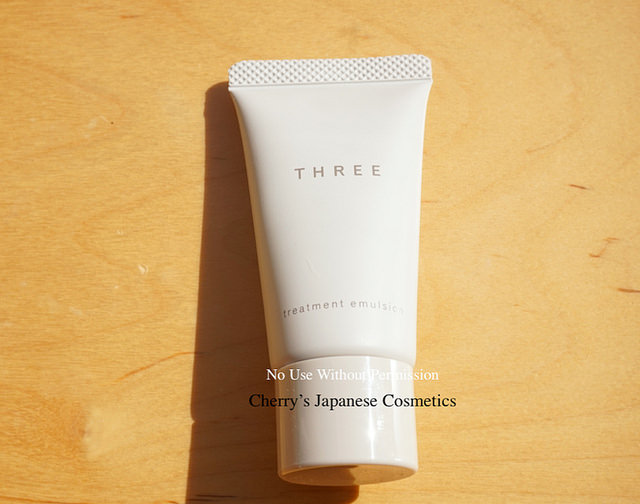 For my current skin, the THREE Balancing Emulsion is stronger, and I had experienced Aiming Emulsion, which is moisturised well but a little bit strong for me.
I had good experience with Concentrate Emulsion too, but In this new "THREE" line, it is focusing for sensitive skin. I pretty like the skincare products by THREE, due to the scent of natural essential oils. But as you know, "Organic" or "Natural" are not always meaning good for your sensitive skin.
But when it is designed for sensitive skin?? Probably it is try worth. Fortunately, here is a trial kit.
This is just a white emulsion. This item is designed for using after your lotion.
I pretty like this emulsion, because this emulsion is not so much oily for me, afterward of  applying this item, I feel it is good balance of oil and water.  But I have to admit my behavior makes my skin less oily.
And there are no sting nor irritation. Probably this "THREE" is better than other line for me, in person.
This emulsion has perfume. As I have described many times, I dislike perfumed items. But in case of THREE's skincare items. I LOVE their scent. Balancing line is containing the smell of Rosemary and Orange, the Concentrate line also has the smell of Rosemary. I do not feel Orange, but I felt Sandalwood. And  in this line of "THREE", there are Laurel & Frankincense. Compared with the makeup remover and the face wash, this THREE Treatment Emulsion is a little bit sweet scent than cleansing products.
Please check the latest price, and order from here: "THREE".