THREE Flawless Fluid Foundation was one of the best seller liquid foundation for us, and the formula of 2014, THREE Flawless Ethereal Fluid Foundation is still often ordered.
Review by Cherry
I also use this as regularly. I just bought a new bottle, I will show you.

The color was #203, the basic shade for Japanese. I often use #203 and #202, the lighter shade. When I buy it in Winter, it is #202. When it is tanned, I buy #203. In this Autumn of 2016, the BC and I was wondered which is better. To fix with my face itself, the shade shall be #202. Fixing the shade with my neck, #203 is better.
To naturally beautiful, we often choose the shade to fix with the neck.
This foundation is a pump style. I guess this is neat and good hygiene.

Let me put this foundation on my arm. The primer is RMK Makeup Base. Also, here is the swatch with Addition The Skin Care Foundation, I feel what is similar finish and texture with this Three Fluid Foundation.
Guess even The Skin Care Foundation #008 is lighter than this THREE #203.
This THREE's liquid foundation is pretty easy and quick to spread on my skin. Quite light texture. And I do not feel this is oily, but watery.
Can you see? In this picture, it is hard to see I wear foundation. In my eyes, I feel it is quite, quite lightly wearing. I am satisfied with this, and this is what I am looking for now.
Another swatch with Cosme Decorte The Liquid Foundation #302.
Both are the very standard shade, but Cosme Decorte is more pinkish, and THREE is more yellow. Also, I feel this THREE finish is more glow than Cosme Decorte. Which do you like?
Please check your color, the latest price, and order from here;"THREE Foundations"
Review by Hazelnuts
Talking with Hazelnuts, she asked me about foundation of SUQQU or CHICCA, but talking with her, I guess she likes more light texture and sheer coverage. Probably THREE or ADDICTION is for her.
I gave her a sample of this foundation, the shade is #203. She wrote a review for us 🙂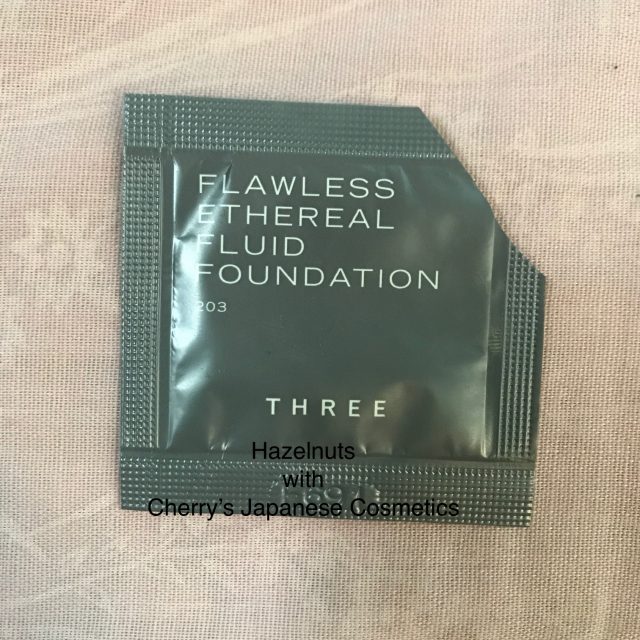 It's been a while since I used a "proper" foundation, because of my hectic schedule. To save time, I usually apply tinted moisturizer / sunblock or BB cushions so I can get out of the door as soon as possible. But I cannot resist a good face base and one of my recently discovered brands, THREE, has been good so far with my skin, so I'm quite pleased to try this popular foundation.
Cherry sent me a sample of the Flawless Ethereal Foundation in 203. I understand it's the standard shade/color.
I like that THREE is focused on natural ingredients, and this foundation is no exception. It has 80% naturally derived ingredients, with essential oils to keep skin moisturized. It is also paraben-free, which is good for those who are conscious of the chemicals found in cosmetics. It has no detectable scent, and seems concentrated with pigments.
I find the texture quite light. Not water-light, but rather light in terms of application. It applies and blends very easily, but it has enough pigment in it (which is what I meant when I said "concentrated"). I barely used a few drops of the foundation for my face, as it sufficiently covered my entire face with very little amount. The initial "feel" is quite matte, but as it settles on the skin, it becomes more of a satin finish, with a natural glow.
I like the coverage of this foundation. A little amount goes a long way for me, and I don't even feel the need to use a brush when I apply this. Fingers work best for me, because it warms the product and it spreads more easily. I would say that the coverage is light to medium. I don't have skin issues to cover in the first place, so I feel that this foundation does a very good job of making my skin tone more even and polished. I guess it can also cover redness very well, but it might not be enough if you have other problems such as blemishes or dark spots. The overall finish is flawlessly natural.
It also wears quite well. I find that it mixes with the skin's natural oils over time, adding a bit more glow. Take note for those with oily skin.
So yes, I do like this foundation very much because I'm a fan of the natural glowy look. Wear time is good and it's lighter in texture compared to other liquid foundations I have tried. I don't need to use a lot for coverage so it feels like my face can still "breathe."
If you prefer natural ingredients in your makeup and you like the no-makeup, barely-there finish, this foundation will work for you.
Thank you! Hazelnuts!
Please check your color, the latest price, and order from here;"THREE Foundations"