I bought a small tube of POLA diem couleur Primer L,  and Primer G, new for AW2019.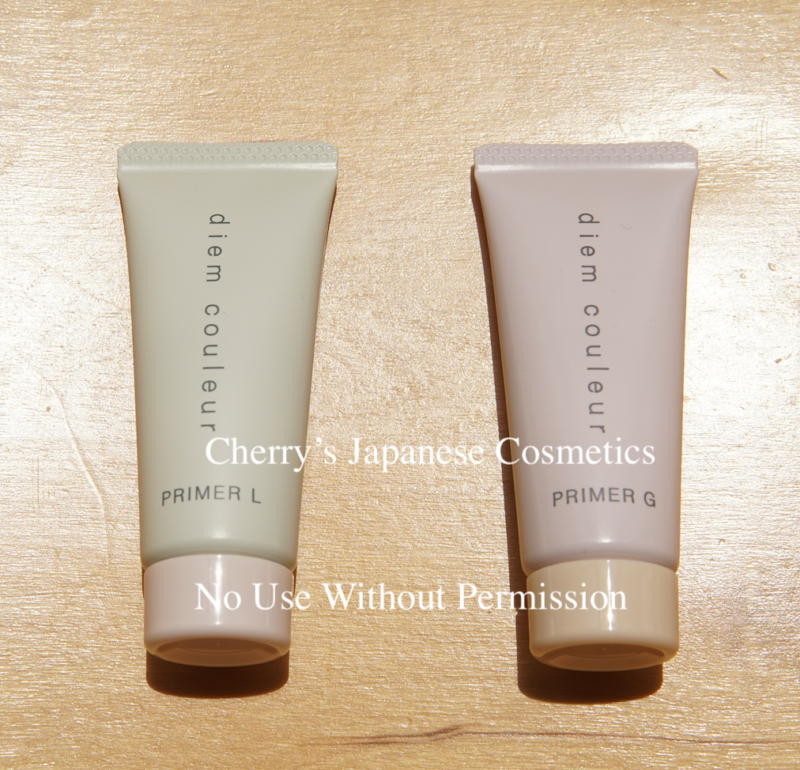 "L" means "Light" and "G" means "Glow", I am sure. Anyway, for using, Primer L is for diem couleur color blend foundation (powder type), and Primer G is for diem cooler color blend foundation glow (emulsion type).
Primer L and Primer G
Here is the swatch to show you the difference between Primer L and Primer G.
Yes, it is ridiculously strange that the blue-green tube of "Primer L" is a pinkish shade, and pink tube of "Primer G" has white shade. The design of the bottles and packages are super cute, but it is not good "user experience" or "use interface". The package or product designers of Pola are a little slow people.
Anyway, let's go to the review. The product itself is nice.
Texture
The texture of the both are similar: harder than I had expected. But it gets smooth on my skin, no worries.
And on my face, both are quite lite feeling.
Shade
In Primer L, the pinkish shade one, it is a kind of "color controlling" primer, it makes my skin more good complexion, and on my face, it covers my uneven skin tone.
In Primer G, the white shade product, as you see on the picture above, it does not change my skin tone. If you need something toning you need to use others.
Guess it is the time to show you my swatch of color blend foundation glow and color blend foundation. in the same shade of "N2".
In "glow", it is better covering than the powder color blend foundation. It can be the reason why the Primer G for the powder foundation has color controlling effect, I felt.
Sunscreen effect
Generally, foundation primers are for the products to let the foundation fit to your skin surface. I often use sunscreens not let my skin tone change.
Primer L has SPF37 PA+++. And the Primer G has sunscreen effect of SPF33 PA+++. Both are not enough for my Summer, but they are pretty enough for my Winter.
Smell
There is a bad point that both have something odd smell, probably it may be from something ingredients. Some perfumed sunscreens are for hiding these odd smell, but POLA do not add perfume for the foundations and foundation primers. This is the reason why it smells.
There are some sunscreens let me feel irritation, but this is POLA. I do not feel anything irritation/ sensation.
I also bought both of POLA diem couleur foundation . Let me show you about it.
Please check the latest price, and order from here: "POLA diem couleur Line".
Primer L and Lancome Tone Up Milk Rosey Bloom
Fortunately, still there are Lancome Tone Up Milk Rosey Bloom, what I chose for myself of 2019.
There are not big difference between the two. Oh, Lancome has perfume, and strong sunscreen effect.
On the picture above, there are no blended difference, but in my eyes, both are slightly pinkish on my arm.
Please check the latest price, and order from here: "POLA diem couleur Line".