Lamcome itself is a French brand, but they have big laboratory in Japan. They are focusing on Japanese Skin, and localise. They say some are sold those "made in Japan" or "made FOR Japanese" among Asia-Pasiffic area or at Japan only.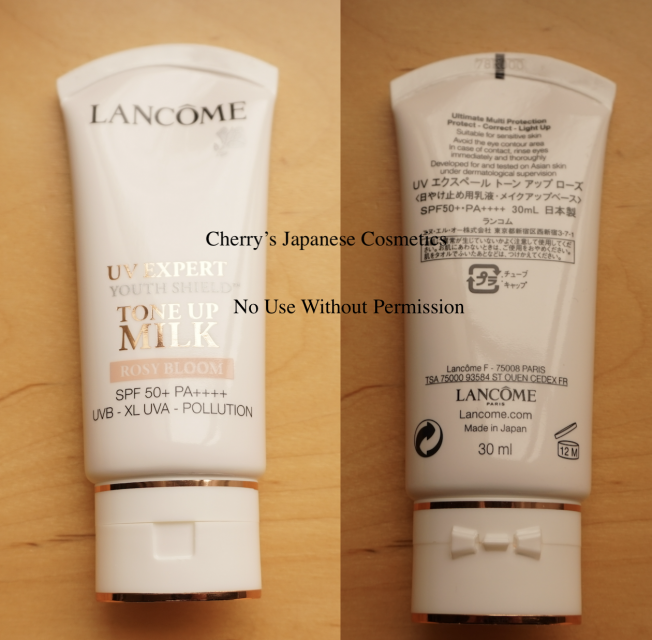 See on the tube, Tone Up Milk Rosy Bloom, there is written as "Made in Japan".
General guide for Formula of 2019
In SS2019, Lancome changed their formula of UV Expert line (or unified their line in the same design).
In the article below, "UV Expert Torn Up Milk" was mega hit product of 2018 in Japan. Seems they have changed it to "UV Expert Torn Up Milk Pearly White". And in this article below, there is "BB Complete #02", as long as watching in the website, this BB#02 is now "UV Expert BB Complete 2 (ala BB 2 n)", and the shade is not changed.
Also, there is "UV Expert XL" on the bottom of the article, this is the formula of 2014, and in the formula of 2019, there follower of this products are "UV Expert Milky Bright (aka Clear n)" or "UV Expert Aqua Gel (ala Aqua n)". Guess Aqua Gel is more lighter texture than Milky Bright, I am sure.
UV Expert Tone Up Milk Rosey Bloom (for SS2019)
After the mega hit of UV Expert Tone Up Milk in 2018, Lancome released  "the shade the most loved by Japanese female", "Rosey Bloom".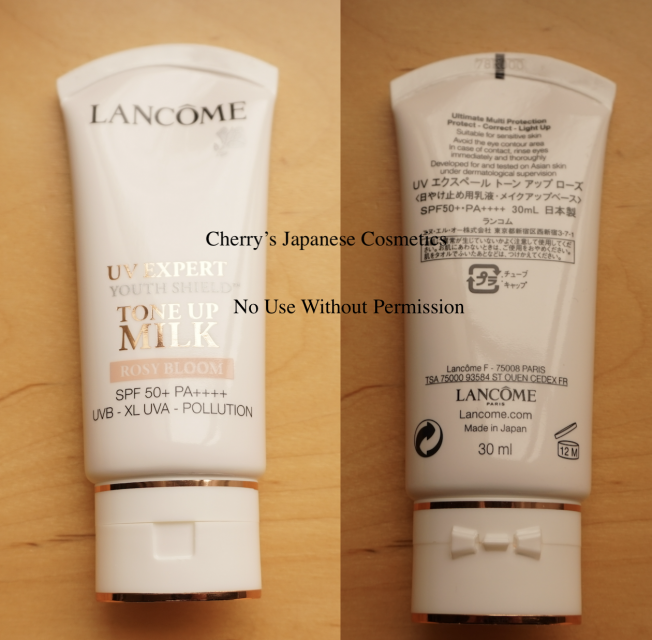 I bought a 30ml tube for myself. Let me show you with comparing with Cosme Decorte Complete Flat Primer, was new for AW2018.
In previous "Tone Up Milk", it white my face out with white cast, I felt. I had thought that this new "Tone Up Milk Rosey Bloom" is with pinkish something. Using this new Lancome, I reminded The Complete Flat Primer of Cosme Decorte what I bought.
The texture of this Rosey Milk is "creamy", and the Cosme Decoete is more runny or watery and righter.
The Complete Flat Primer is generally no change of the skin tone, but if you are wearing with heavy layer, the white residue makes you look "toning your skin shade up".
In this Lancome Rosey Bloom, when I wear it with heavy layer, the white-pink residue makes my skin tone "up", you see the picture on the corner of the swatch with "Tone Up Milk Pearly White".
But it looked better than previous "Tone Up Milk", it was slightly lighter shade.
If you are thinking it is a foundation primer with color controlling effect (like me), guess you should better to choose other foundation primer or color controllers.
They insisted that it is good lasting, but seems there are neither waterproof nor waterresistance effect.
Please check the latest price, and order from here:Lancome UV Expert
UV Expert Tone Up Milk Pearly White
Lancôme Torn Up Milk beats everything among new for SS2018. However I was shocked to see the white cast to "Toning Up". Here is the picture of the package of 2018.
I found someone still selling the formula of SS2018. When it is new for SS2019, the "Tone Up Milk" is changed to "Tone Up Milk Pearly White", and you may find out something letters under the big "MILK" letters.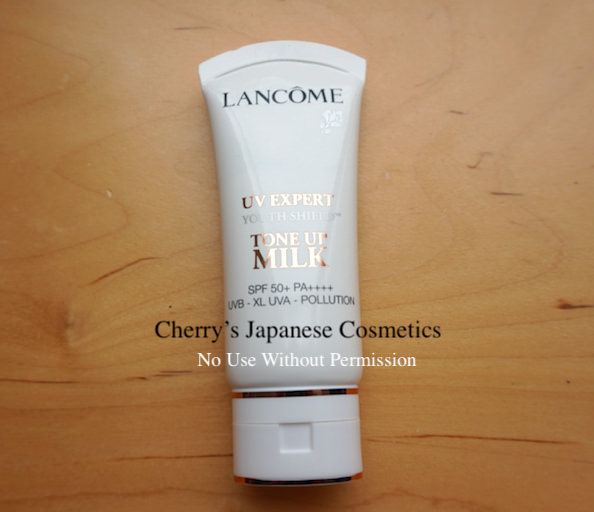 In Feb 2019, they changed the formula, but still in Jan 2019, they spread the samples of formula 2018.  Still there was a sample "Tone Up Milk" of 2018, and finally I got a sample of "Pearly White", new for SS2019.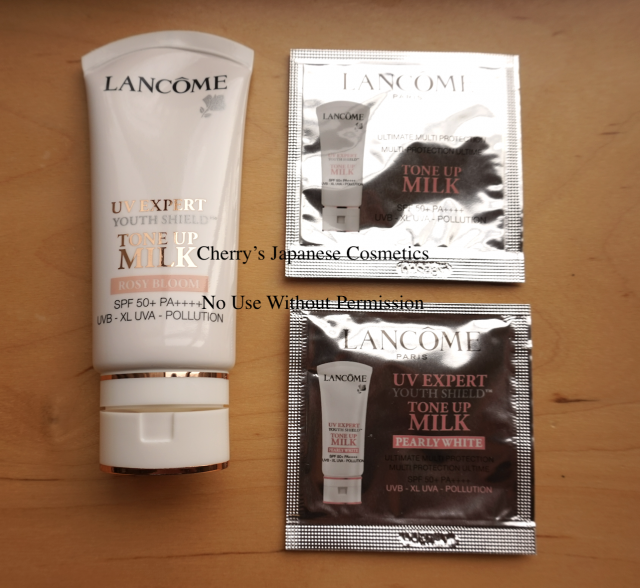 It can be nice to swatch with new Rosey Bloom.
The texture of the three "Tone Up" are not so much big different from each other.
I had expected as "Tone Up Milk Pearly White" means there are shimmering glitters. Actually there are no glitters. I could not find out the difference between the Tone Up Milk formula of 2018 and Tone Up Milk Pearly White the formula of 2019. Pearly White is also "Tone Up" with White residue.
Guess it can be more important to compare with "Tone Up Milk Rosey Bloom".
In heavy layer of the three to emphasis to show the residue, I feel the "Rosey Bloom" is more natural than "Pearly White".
Please check the latest price, and order from here:Lancome UV Expert
Rosey Bloom & POLA Diem couleur Primer L
Another watch of Rosey Bloom. The POLA diem couleur Primer L. The finish is not quite difference, but Rosey Bloom has perfume, and strong sunscreen effect.
Which do you choose?
BB Complete 1n (formula of 2019) and previous formula
Lancome changed the BB Complete 1 in Feb of 2019, but even in Jan of 2019, they sent us samples of the blue package. The formula of 2019 is with a pink package.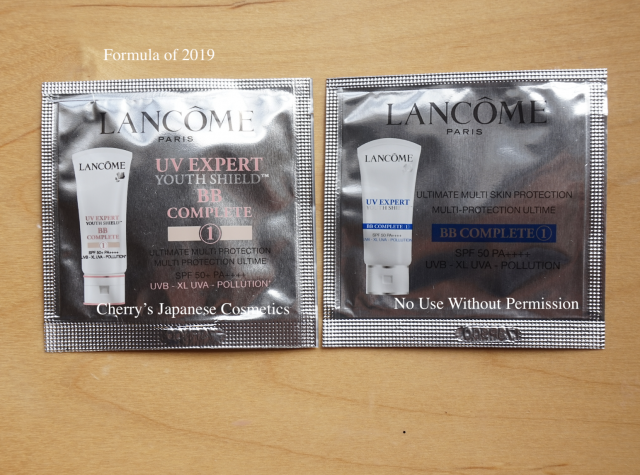 In the sales pictures, Lancome is using oddly grey shade for this BB1n.
Anyway, here you are.
Can you see the difference between the two? If you feel something different in the centre of the picture above, it is because of the layer.
In person, I felt there are nothing difference between the previous formula and the current.
According to the BC of Lancome, its lasting is QUITE good, she insisted that "if you are in sauna with wearing our BBs, it may not be run". However there are no waterproof effect, and I disagree with her.
Please check the latest price, and order from here:Lancome UV Expert
SS2018 and BB Complete 2
We got a sample of BB Complete #02, I show you them in once while our obsession for the customers.
My experience with Lancome sunscreens
I had used to be repeating Lancôme sunscreens, because I rarely feel sting by them. But one bad point is the sweet floral perfume. I found Addiction also sells no irritation sunscreen without perfume, and even Shiseido and Kanebo are releasing for sensitive skin. Please see also these articles, ADDICTION Skin Protector, Shiseido Anessa Mild Sunscreen, and Kanebo Allie BB.
Anyway, I had good experience with Lancôme sunscreens, and I expected this Torn Up Milk and BB may be nice to me too.
Review
Anyway let me apply both on my arm.
The Torn Up Milk is white one, and BB is a natural shade.
Both have the same scent, the very Lancôme sunscreen, they did not change it. It is not fantastic in person.
Swatch on arm. The Torn Up Milk is whiter, the very old school sunscreens. The BB looks not bad.
Blending, Torn Up Milk made my arm oddly white. S-P-R-E-A-D, to be not oddly white. On the other hand, the BB side is nice, natural.
"Torn Up"?? Guess BB#02 is nice looking, I felt
Uh, finally I guess I could blend the Torn Up Milk not wired look.
On my face, of course I did not apply then half and half of my face! I did it other days. The Torn Up Milk is typical sunscreen easy to let your face white in perfectly bad meaning. This IS the VERY "Torn Up" what they say. I S-P-R-E-A-D-E-D on my face carefully, or if you feel still odd, I give you a tissue to soak the extra sunscreen on your face.
Probably I may too old to chase popularity. I often travel alone in Asia, I am pretty loving to see faces on the street with sitting on caffe. You may see they are often non makeup faces even young girls, and when you find the ladies wearing foundations with far from fitting their shades of necks. In my Japanese view point and value, I often feel If I were them, I may choose at least one torn, or even two turns darker too boost my own beauty.
Please do not misunderstand me. It is not personal attacking, simply cultural or even generational difference.
Guess this Torn Up Milk is for a demand of them. I asked the owner of this sunscreen, it is the very she was disappointed. There are some foundation primers or color controls looks our face brighter naturally. She had thought this one is also, but not. For the demand like us, I preferred to use the BB.
Checking what Japanese reviewers are saying I found many are saying "not too whiteness", uh. I agree it does not make my face not too much whiteness, if I soak extra sunscreen on my face. Uh. They also say it is "naturally bright up without pearls or glitters". Oh. I show you the blended picture again.
I agree with there are no glitters/ pearls. Indeed, still I feel BB#02 is much naturally make my skin shade one torn healthier.
Texture and lasting
Anyway, back to the Torn Up Milk and BB #02, the texture are the same I am sure. Super light, but no dryness. They kept my face well moisturized. And of course no irritation. This is the reason why I had liked and repeated Lancome sunscreens. When it is Summer, it could be oilier, but I am not sure.
The lasting of BB #02, it is not pretty bad. There are so many bad lasting liquid/ cream foundations, it ran out, of course ran out, but it was not pretty ugly.
Totally to say, in my view point of value, I felt BB #02 is more better to be "torn up" than the Torn Up Milk. The scent is not for me, but it is gentle for my skin.
Please check the latest price, and order from here:Lancome UV Expert
Lancome UV Expert XL (Written in 2014)
I (Cherry) bought large size of Lancome UV Expert XL for myself.
This is a 50ml, large and exclusive size. What we deal regularly is 30ml of this.
Let me show you my review.
The "cream" itself is yellow-white. It has perfume, but not stinky.
I liked Lancome sunscreens so long, because I often feel sting by sunscreens, and I feel it from Lancome sunscreens, but it is not quite strong.
And it rarely turn my skin wired color 🙂
Recently, I often spray water after applying sunscreens, but seems I did not. I took this photos long ago 🙁
Just let you know that this sunscreen has no waterproof effect. It is good for foundation primer, I often used last year, even mid of Summer. I felt it turns to my skin a little bit oilier, indeed.
I need to tell you one thing. I feel sting by this sunscreen.
Now, I know there are some sunscreens I do not feel sting by them, like ADDICTION Skin Protector. Still I like Lancome, but I may not turn to this formula.
Please check the latest price, and order from here:Lancome UV Expert