Albion releases new products in SS2021. As I know this is the first "massage serum" among Excia Brightening (Excia AL Whitening) line.
I got samples of Albion Excia Jet White Restart Serum.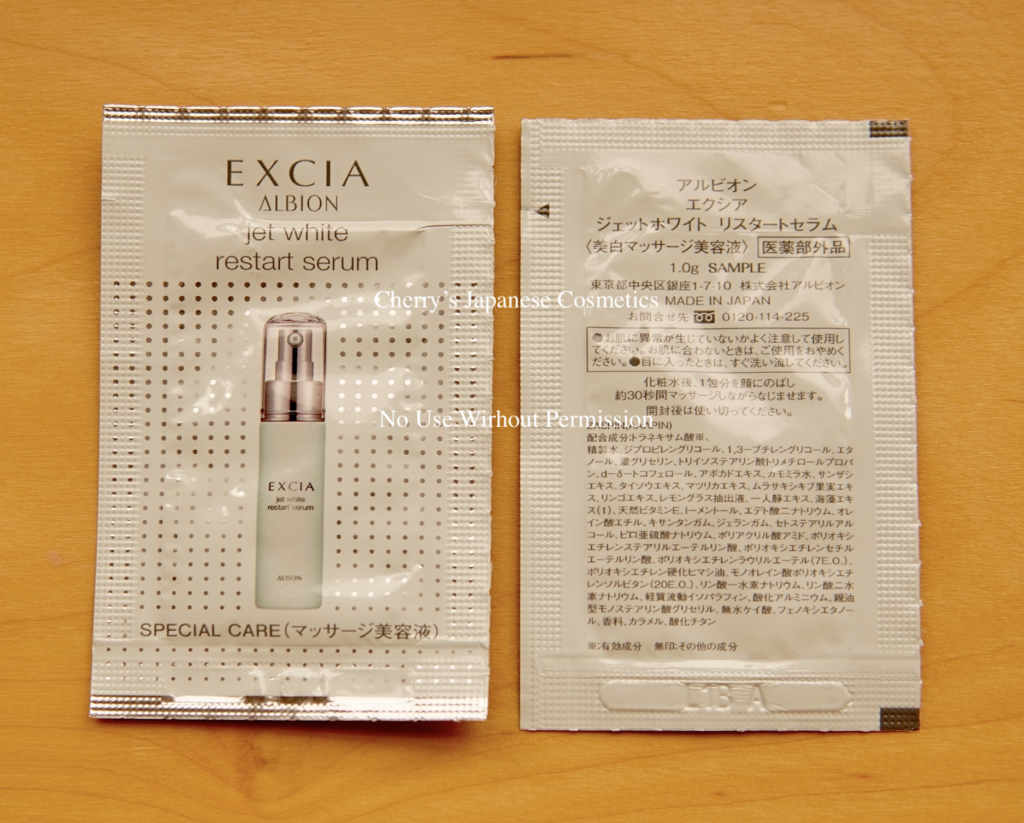 Let me share how I felt.
Way to use & How Cherry felt
This product is a massage serum. As they say please apply it after your lotion. In Albion method, it means the 3rd step of Albion Skin Care Method. Please see also: Albion Skin Care Method.
It is a kind of surprising for me that after the 3rd step of the Albion Skin Care Method, it is not meaning rinse or wipe after massaging.
You have no need to remove this massaging serum.
When I am testing to know about this product, I used it use it just after my face washing. It is really moisturizing!
I had read a book written by a dermatologist, she mentioned that massaging is not always good for our skin. She recommends to not touching our skin surface.
Applying it on my face, I reminded that Ignis repairing gels:
I felt they are not a massage gels, but all-in-one. Albion Excia Jet White Restart Serum is a kind of them, what apply it on your face, and sleep well, you might find your skin is better condition.
Fortunately I did not earn acnes with this Excia, I need to note that I earned acnes with Ignis Whitening Oasis, sadly.
Also, I need to note that this product is with Tranexamic Acid as brightening factor. I rarely feel stinging with Traneexamin Acid, I did not feel any of irritation with this product.
Please check the latest price, and order from here; Albion Excia Brightening Line.