I (Cherry) got samples of Albion Infinesse Brightening Force Wash, what is a face wash, even it is under "Bright" name, seems there are no brightening/ whitening factor, please do not misunderstand.
I LOVE how this facial wash feels and how my skin feels when I am done washing.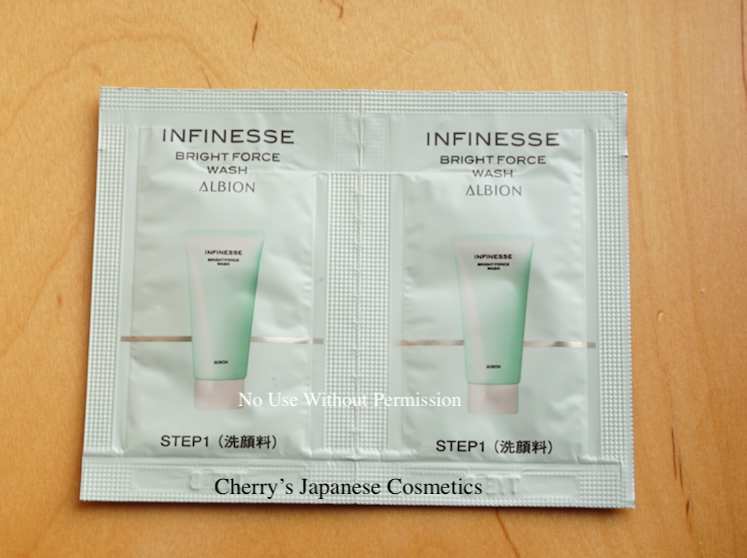 I could whip nice foam with cold water with a foaming net.
I was satisfied with this creamy whip.
It is also true that previous formula of Albion Infinesse White line, their face wash and makeup remover are not pretty nice products, they are "so so". I did not so much excited to use this sample, due to my experience of the previous formulas. I need to say, it was more than I had expected, in good meaning.
It felt nice to massage the wash into my skin – reminded me of receiving a facial.
As an Albion product, Albion Infinesse Brightening Force Wash has stronger perfume. But it was quickly gone with rinsing.
Once rinsed, my skin felt alive! It was not a tingle or a sting. It was as if I could feel the cells of my facial skin and they felt happy!  I also felt this cleaned my skin pretty well. It can be strong when my skin condition is bad, but it may be pretty nice to use in Summer.
I needed to admit that it is not affordable price, but if you are looking for something foam face wash, it can be one of the solutions.
Please check the latest price, and order from here: Albion Infinesse White Line
Please see also our reviews for new Albion Infinesse White line.