AQ Meliority is one of the most high-end line for Cosme Decorte. They changed the formula on AW2019.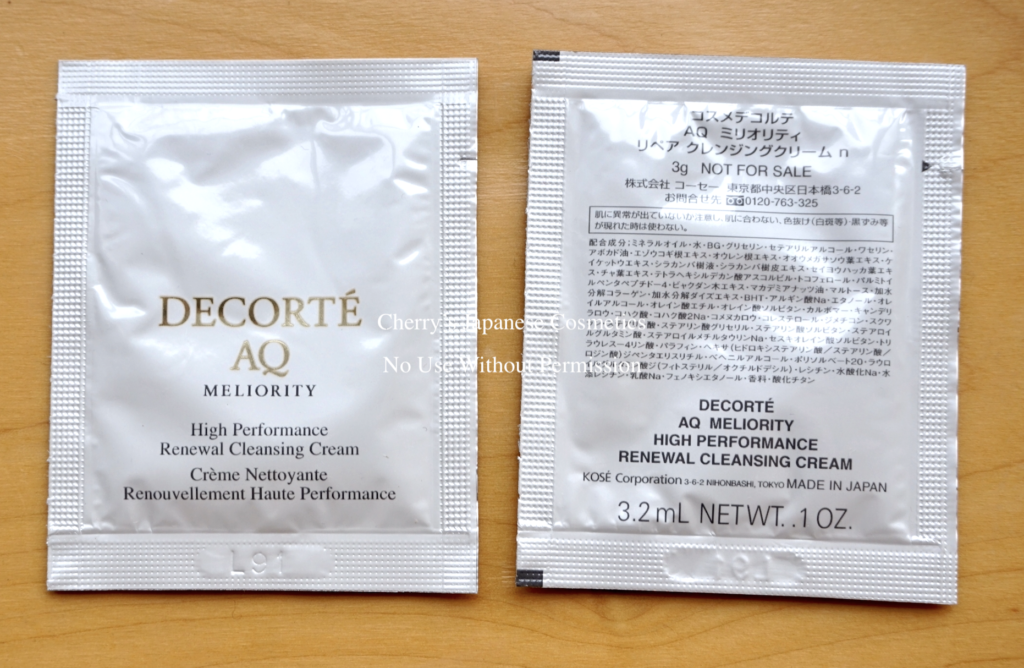 Finally I (Cherry) got a sample of this makeup remover,Cosme Decorte AQ Meliority Repair Cleansing Cream n.
They said it including lots of herbs. Nice.
Makeup items are below
Foundation Primer: Sofina iP
Foundation: Cosme Decorte Stick Foundation
Eyeshadow: Addiction the Eyeshadow
Lip: Three Demure
Mascara: RMK
Eyeliner: Jill Stuart
I perfectly forgotten the scent of the previous formula. I noted it was a herbal. I am feeling this scent of AQ Meliority Repair Cleansing Cream n is sweeten thing, I like it.
I just softly wiped my arm by a cotton. It looks perfectly removed, yes, I admit I could. However the original quantity was not enough, I needed to add double. I am using waterproof makeups, and it was not easy to remove, especially the RMK Mascara and Jill Stuart Eyeliner. I had noted the previous formula was easy to remove, but I do not think this formula of 2019 is good at removing. On the point of the price, I do not think it is not quite nice. I strongly recommend to choose Ignis Brightening Cleansing Cream than this AQ Meliority.
The afterward of removing, I felt it was oily. I used my daily face wash.
Also, in the formula of 2019, the style is still on the jar. On the view point of hygiene, I do not want to buy it.
Please check the latest price, and order from here:Cosme Decorte AQ Meliority Line