In SS2021, SUQQU changed a formula of their powder foundation from "SUQQU Lucent Powder Foundation" to "SUQQU Glow Powder Foundation".
I got a sample of this, the shade is #120, the standard shade.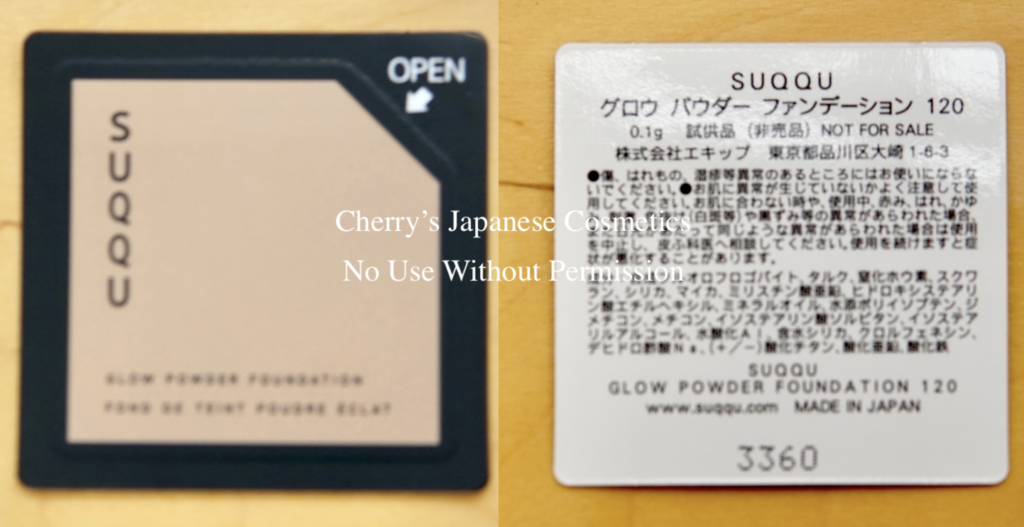 To my sorry! I took one shot only, and it was not focused!
Just let you know that sometimes we are asked by people who want to have/ buy samples, but we are not always having, and Japanese makers often make samples the standard shades only.
Generally I feel it lasts well.
Generally, I feel it is a good lasting, fair coverage (as a powder foundation), and natural to  semi-matte finish.
I say it covers good, it means among powder foundation, DO NOT expect is is perfectly covering as if it was a cream foundation. When you need fully coverage foundation, among I know, please choose SUQQU The Cream Foundation, or Albion Excia AL Superior Cream Foundation EX.
I did not feel it is easy to run,  I also did not feel it makes my skin drier. When I am with air conditioned room, my face is getting drier with ANY of foundations, but it was better.
I walked 30 mins under almost 30C degrees with wearing it (the primer was Allie Facial). I can never say it does not run, but it was much better lasting than an emulsion foundation by Lunasol. It is not a fair comparison, powder foundations are often good lasting than other foundations.
Also, I combined it with Smooth Cover Primer, and took a shower without removing. I found it was nicely fitting to my face. I don't know whether it is good for tropical area or not.
Checking what Japanese reviewers are saying, this is called as "no pore foundation" with the combination with the Smooth Cover Primer. Some mentioned this foundation is coming to glow after hours, and I did not find that. It can be changed due to the temperature and humidity.
Shade swatches
With Albion Excia AL Powder Foundation White Extreme.
With the combination of the Smooth Cover Primer, it covers pretty well.
Both are the very Japanese preference foundations, quite natural finish, and no or less glitters. I had thought it is shimmering or something under the name of "glow" but I had no need to worry.
#120 is a little bit tanned shade on my arm, but good for my face.  #NA201 is more pinkish shade.
Please check the latest price, choose your shade, and order from here: SUQQU Foundations.