In SS2018, THREE released new skin care line, "THREE".
I bought a trial kit, and now, my skin condition is good (not perfect, simply good), I decided to open this package to let you know. The first one is THREE Cleansing Oil.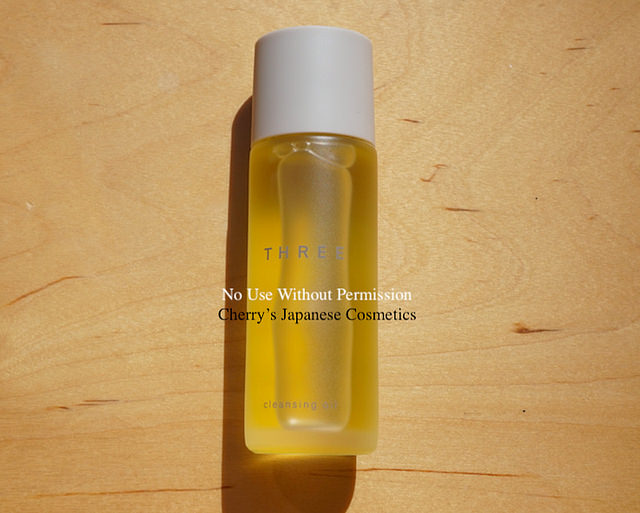 THREE has a good reputation in makeup remover, THREE Balancing Cleansing Oil, and this new makeup remover is the same color with that one, I had expected they are going to discontinue the "Balancing" line, but as of March 6th, they are keeping both.
Anyway, please let me share with you how it works and how I felt.
My makeups are,
Letters: Coffret D'or Super Sharp (Waterproof, really strong one!)
I took this makeup remover on a cotton, and first few strokes are below.
The colors are almost done, and the letters are started to be removed.
Here you are!
It removed my waterproof makeup perfectly.
In person, on my face, afterward of rinsing by water, it was not pretty bad. If you are feeling THREE Balancing Cleansing Oil is too strong for you, it could be one of the choice we can suggest. Indeed, it can be due to the ageing… sadly… recently I am feeling cream type makeup removers are fitting to my skin condition. Oils are too quick to be removed, and it IS the very the reason why I had often choose. However it also means it can easy to remove oils of my skin, I suggest. Even I use moisturisers and something, afterward of my face wash,  I am also feeling oil makeup removers are for Summer, and not for dry season. (As you know, I am living in Japan, and it is really humid in Summer, oops not so much humid like in HK or Taiwan, but for most of the audience, it is humid, I am sure.)
The most uniquest point of this makeup remover is the scent. They are using Laurel Oil & Frankincense Oil. Guess they brings special scent of this makeup remover. The Balancing, they are using Orange & Rosemary, and I often feel fresh. but in this line of "THREE", I am feeling relaxed. Really relaxed.
Totally to say, no sting, no dry, and wonderful scent. I can not stop loving this makeup remover 🙂
Please check the latest price, and order from here: "THREE"