Review by Cherry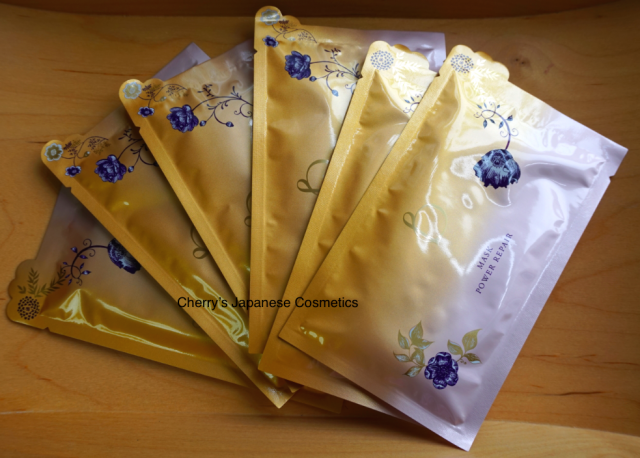 Strong recommend by friends of mine
Frankly to say, I (Cherry) am not a big fan of Shiseido (excluding Ipsa). I often wonder why they use such a strong and cheep perfume with strong Alcohol? Anyway, I have not a good image for them.
One of the girls behind me gave me this new sheet mask. I am not pretty much big fan of those packaged sheet masks. I recommend to use cottons to make lotion pack/ cotton pack, because the packaged sheet masks are often just lotion/ emulsion with mask. That's not my value.
You do not understand what I am saying? See also Beauty Tips: Lotion Pack/ Cotton Pack
She told me "This is a sample, and it was also free for me. I like it and bought a box. You are often asking me to tell my favorite cosmetics, try this, this is the one I recommend".
Using with hesitation… GREAT!!!
I see. I had thought it might be another strong perfumed sheet mask, and opened it without checking what it is, just after my routine: Albion Excia AL White Milk VS and Ignis VQ Lotion. I apply horse oil before my sleep.
This is the product what is quite different than I had expected, in good meaning!
Without cooling

At first the perfume. It smells "gentle". That's true that it has sweet scent, but I do not hate it. (What I hate is cheep floral scent!)
See this mask. You may see emulsion. NO. THIS IS A CREAM! As a cream, it is runny, yeah… you can say… an emulsion… 🙂
Can you see this sheet itself? There are lots of sheet masks not pretty good quality of the sheets, and this is one of the reasons why I dislike packaged sheet masks. I guess it is better to use Albion's cotton pads or other cottons to make sheet masks. This sheet is a kind of "felt". I don't know what this mask is made from, cotton?? Anyway, this sheet is thick and so soft. The sheet fits my face really easy, it may be because of this thick sheet.
I know some emulsions/ creams bring me sting. As I had told you, there are some not fun experience with Shiseido products, my skin is too sensitive to use Shiseido 🙁 But this sheet mask, there are no problem with those irritation.
As "Power Repair", this sheet mask was pretty good to moist my face. It is not pretty much oily for me.
There is also one surprised thing. I have a supple face, usually I do not feel anything with the products what insist that "this make your face supple skin" things. But with this mask, I felt my face is more and more supple 🙂
Shiseido also recommend to make this cold at refrigerator before use. It will be like an ice-cream ! They do not recommend to use just after your red sunburned skin. Use this sheet mask after your skin is calmed down.
I liked it very much, but checking what other Japanese are saying, tons of people liked this mask, like their dull skins were coming glow, but seeing carefully, this is not food for few: one is saying it was too oily, the other said she got lush 🙁
For me, in person, this sheet mask is with good quality sheet, almost perfect cream. This cream is so nice, and I wiped my elbows and knees with this sheet after removing from my face 😀 (yeah, you do too? no??)
Please check the latest price, and order from here: Shiseido Beneique
With Cooling
Anyway, Shiseido also recommend to make this mask cold at refrigerator before use. Not ice, just make it cold. To be honest, I feel simply YEEK! with hearing someone is using her refrigerator not only for foods but also for cosmetics. Just my feeling. Someone has small refrigerators only for her cosmetics, but no, no, I have no space to do that.
I tried while my staying at hotel. You know, travel is fun, but somehow make me tired.
I went to out with make this cold in a small refrigerator in my hotel room. On that night, I tired to use this.
Hmm… where is the difference? Hmm. No…
I applied it on my face, after my daily routine.
Hmm…It gets warm really quickly, and I did not feel this is an Ice-cream… I prefer a hot towel on my face.
Yeah, it is true that this is really good sheet mask for my vacation. After using this on my face, I wiped my body as if this is a sheet body cream!!
Totally to say, for me, I like this everything: scent, texture, quality of a sheet etc. Even Shiseido recommends to make this sheet cool, I say it is enough to use it as usual temperature.
Review by Hazelnuts
We gave Hazelnuts of Philippines this sheet mask.
See how she felt.
I'm very picky with face masks because based on experience, it has always been a hit-or-miss for me. I usually do not like heavy, silicone formulas because I would get breakouts, while other watery, lighter formulas do not offer much moisture. I did try out some good ones, usually with collagen, hyaluronic acid or vitamin C in their ingredients— I like how they keep my skin moist and bright instantly. That's why I was curious to try the Shiseido Benefique Power Repair Mask, because I've read that it's a cream sheet mask. It's my first time to try it so read on to find out how it worked on my skin.
The Benefique Power Repair Mask has a barely-there scent that is not noticeable at all, and the sheet itself is of very good quality. When I pressed the mask, cream essence came out— the mask was very saturated.
I liked how it fit the contours of my face—the mask was stretchy and felt very comfortable, even if it was a bit thick.
Please note that I kept the mask in the refrigerator and the effect was cooling and soothing at the same time. I figured that I could have used it at room temperature, but because of the warmer weather here, it would probably feel a bit uncomfortable because the sheet was thick.
I left it on for 20 minutes and used it alone in place of my night cream, afterwards I fell asleep. I woke up in the morning with smooth, bright skin that felt quite firm. Not bad! At first I thought the cream essence was too rich for my skin but not at all— the moisture was just right— not sticky and oily. I also had a bit of puffiness in my eye area before I used the mask, but I was surprised to see that it was gone when I woke up. My face was smooth, with no bumps or redness. I like it very much! The moisture was sufficient for my combination skin and I'm sure it will work for those with drier skin types as well— used alone or together with other skincare products. I would recommend this to anyone who wants a beauty "boost" to their skincare regimen.
Thank you very much Hazelnuts!
Please check the latest price, and order from here: Shiseido Beneique